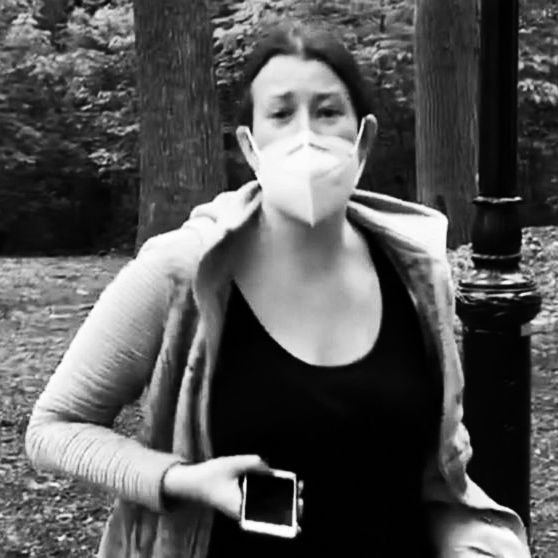 Amy Cooper.
Photo: @melodyMcooper/Twitter
Back in May, over Memorial Day weekend, a video of a white woman, Amy Cooper, calling the police and making false accusations against a Black bird-watcher, Christian Cooper (no relation), went viral. Amy Cooper called 911 after Christian Cooper politely asked her to leash her dog in accordance with the rules of the wooded area of Central Park in which they were both walking. According to new reports, however, that call wasn't the only false accusation Amy Cooper made against Christian Cooper that day. After the incident in the video, prosecutors say Amy Cooper called the cops again and claimed that he had "tried to assault her," a claim she later walked back when officers arrived at the scene.
"When responding officers arrived, Ms. Cooper admitted that the male had not 'tried to assault' or come into contact with her," a release from the Manhattan DA's office said.
This detail emerged in court this week, when the Manhattan DA filed a misdemeanor charge against Amy Cooper for falsely reporting an incident in the third degree.
According to the New York Times, Joan Illuzzi, a senior prosecutor, said that Cooper's two calls to the police were "both racially offensive and designed to intimidate" and were "something that can't be ignored."
On the day after the video went viral, Cooper issued an apology for her actions, stating, "I am well aware of the pain that misassumptions and insensitive statements about race cause."
Cooper's case has been adjourned until November 17th, while her lawyers and prosecutors try to come to an agreement over next steps. Illuzzi reportedly told the court that she hopes the resolution would require Cooper to "publicly take responsibility for her actions in court and attend a program to educate her on how harmful they were."