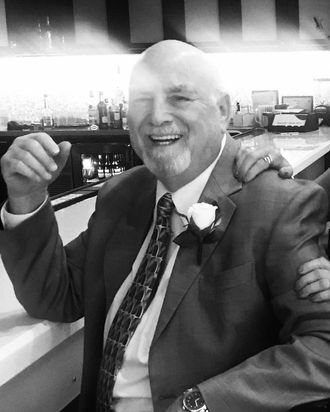 Rocco Sapienza.
Photo: Lakeside Memorial
After 80-year-old Rocco Sapienza had passed a few hours at New York bar where another regular was flouting mask-wearing guidelines, Sapienza decided to confront the man, 65-year-old Donald Lewinski, about his behavior. The interaction quickly escalated: According to the West Seneca Police Department, Lewinski shoved Sapienza to the ground so forcefully, he later died of head trauma. Now, New York Times reports, Lewinski is facing charges in what is believed to be one of the state's first mask-related disputes to result in death.
The fatal interaction occurred the evening of September 26 at Pamp's Red Zone Bar & Grill in West Seneca, where Sapienza and Lewinksi were both regulars, and had separately spent a few hours. During this time, Lewinski wasn't keeping his mask on. While New York does not require people to wear face coverings while seated at bars and restaurants, according to Erie County district attorney John Flynn, video surveillance captured Lewinski repeatedly getting out of his seat without putting on a face covering.
Around 7:45 p.m., Flynn says, Sapienza decided to approach Lewinski to confront him for repeatedly violating the mask mandate and for his treatment of the bar staff. (According police, Lewinski had made "lewd comments" to others at the bar, which likely upset Sapienza, who was "very well-liked" and known to be protective of staff.) Then, "out of the blue," Flynn continued, Lewinski threw Sapienza to the ground with both hands, and Sapienza's head slammed into the floor. Minutes after the incident, Lewinski paid his bill and left. Sapienza appeared to lose consciousness, according to police, and was rushed to Erie County Medical Center to undergo brain surgery. Five days later, Sapienza died from blunt force trauma to the head, according to preliminary autopsy results.
In recent months, disputes over mask mandates have increasingly taken violent turns, with brawls breaking in public spaces across the country, some of which have resulted in death. However, this is believed to be one of New York state's fatal disputes, according to Flynn, who called the case "beyond sad." He continued: "These kinds of situations have continued to escalate, and this should cause everyone to pause and think twice now about how we as a society want to conduct ourselves during this pandemic."
On Monday, Lewinski was arrested and charged with criminally negligent homicide, which carries a sentence of up to four years in prison. He pleaded not guilty the following day. "The videotape and the witness statements that we received this evening make it very clear that Mr. Sapienza was the aggressor," Lewinski's lawyer, Barry Covert, told CNN. "He left his bar stool and aggressively confronted my client."
But Sapienza's family doesn't think there's any justification for getting physical with an elderly man: "I don't care what the reason was, you never put your hands on an 80-year-old and shove like that," Sapienza's nephew, Blaine Riley, told CNN. "My Uncle Rocky should have passed surrounded by family … not like that."