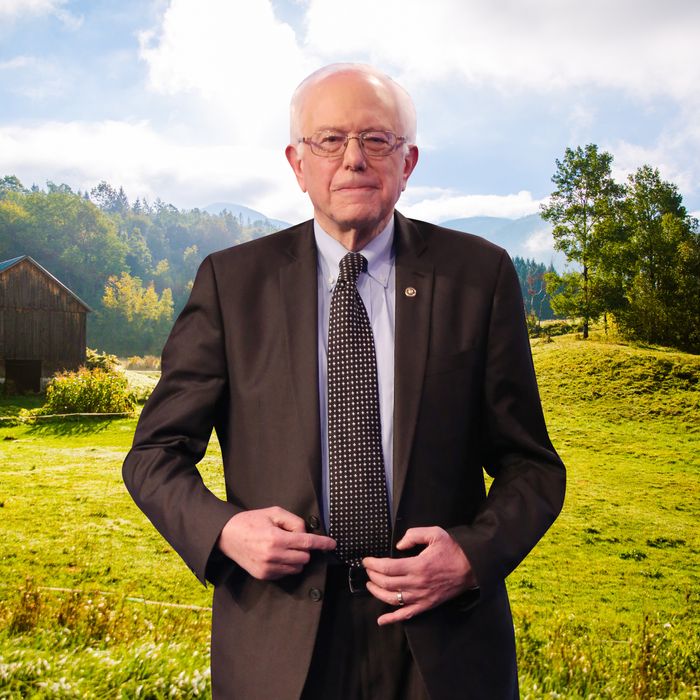 Photo-Illustration: by The Cut; Photos: Getty Images
As the news spread that Donald and Melania Trump have tested positive for COVID-19, with the speed and velocity of contaminated aerosol particles, something was stirring in the north.
Leaves rustled. A cold wind blew. A hermit thrush (the Vermont state bird) chirped a message: Bernard is going back on the road.
Former presidential candidate and senator Bernie Sanders is heading out to campaign in person for the first time since March, his spokesperson said, when the coronavirus canceled large gatherings during the Democratic primaries. He will hold two socially distanced, outdoor rallies in New Hampshire and Michigan for Democratic nominee Joe Biden.
Sanders is clearly feeling healthy and ready for action, having holed up safely in Vermont for 11 weeks during coronavirus stay-at-home orders (as opposed to, say, attending giant indoor rallies or taking 99 days to be seen in public wearing a face mask). During quarantine, Sanders hosted a fireside chat with Cardi B and very likely enjoyed peaceful Vermont activities such as reading in front of a fireplace, eating lots of dark leafy greens, and hydrating. He also managed to push the $600-a-week federal pandemic unemployment benefit through Congress — while wearing a mask around the Capitol, of course.
Now Vermont has one of the lowest virus rates in the country, and whatever other rustic spa-style wellness practices Sanders has been doing to fit — pushups, turmeric ginger shots, throwing the old pigskin with his grandchildren, long walks by a stream — they have all been in preparation for this return. Sometimes, when one president comes down with a deadly virus he has downplayed for months, a former presidential candidate emerges like a white-haired, bespectacled butterfly from its cocoon, ready to yell at us about the one percent again, and we are blessed.