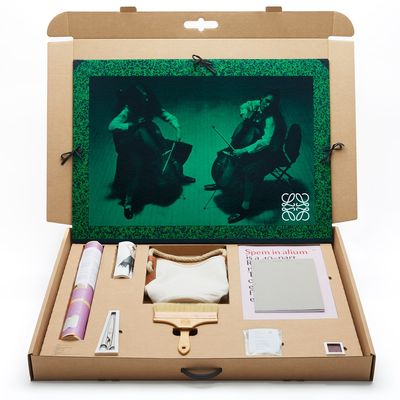 It began with a Gucci zucchini. A Gucchini, if you will. For its "Epilogue" cruise presentation, which took place back in July, the brand sent out boxes of organic, locally sourced fruits and vegetables to a select number of fashion-industry professionals and friends — the people who would normally see the collection in person. This was not the first time that Gucci has gone above and beyond for its show invites, but it was an early example of brands finding new, creative, and sometimes wildly extravagant ways to engage their most loyal followers at home during the pandemic, and make them feel special when they inevitably share what they received on social media.
When New York Fashion Week began in March, more packages started going out. In addition to images and information about the collection, some of them included fabric swatches and hardware, which was helpful in bringing the clothes to life while looking at two-dimensional images. Other gifts were simply meant to make the experience of watching a show on your laptop at 8 o'clock in the morning more enjoyable. The great thing about digital shows is that they're accessible to everyone; there is no front-row-based hierarchy when we're all sitting at our own desks. But this is the fashion industry we're talking about, so of course brands found a way to create some sense of exclusivity remotely. You either know what a Gucchini tastes like, or you don't.
The Italians know that what everyone really wants is food. Valentino sent American viewers Cipriani breakfast treats and a Bellini. Prada sent sweets from Marchesi, the historic pastry shop in Milan that's a go-to spot for anyone traveling there for the show. And Fendi sent pasta in the shape of its logo. To enhance the viewing experience and transport viewers to Milan, Salvatore Ferragamo also sent a full headset to watch its show and ad campaign, which was shot by Call Me by Your Name director Luca Guadagnino.
During Paris Fashion Week, brands got a little more intellectual, a little more high-concept. Thom Browne sent a puzzle, for example, which instantly stumped me. Miu Miu sent a notepad and pencil. MM6 Maison Margiela sent — I'm not even kidding — a box with an empty tin can and string in it, with instructions like: "Hold the tin can to your ear and listen to the sea … Put the can on your head. Make it a cute hat … Name it." My roommate, not a fashion person, was especially perplexed by this one.
The invite you've probably seen the most on social media is the Loewe "show on the wall." It followed the brand's "show in a box," which was sent out for its men's collection over the summer, and included paper dolls, plus a vinyl record that played the sounds of the brand's Spanish factory. The "show on the wall," meanwhile, came with a roll of wallpaper designed by Anthea Hamilton; a Loewe-branded paintbrush, scissors, and tool bag; and some scented ceramic, in case you actually wanted to plaster it all over your home. (Some people actually did.)
On the one hand, the shipping involved in all of this was mind-bogglingly excessive. On the other hand, during a "phygital" season when everything felt disconnected from reality, isn't it nice to receive something that triggers the senses of taste or touch? That is, if you're one of the lucky few on the mailing list.