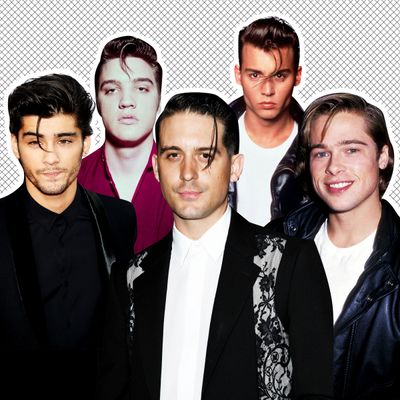 Beware of the slut bang.
Photo: Getty Images, Shutterstock
A "slut bang," I recently learned, is a lone, greasy lock of hair that falls over and sometimes into the eyes of the person sporting it. Is the slut bang a styling oversight? No, definitely not. In fact, the slut bang is deliberately allowed to dangle, and is frequently the only out-of-place lock of hair in an otherwise meticulous hair style.
The term came to me via Caroline and Amelia, friends of the Cut's culture editor Kerensa Cadenas, who arrived at it after meditating on a photo of G-Eazy. See here:
Of course, some bangs are just bangs, but the slut bang comes with a whole different set of qualifiers. If cherubim hair is the favored style of baby angels and K-Pop stars, slut bangs are for heartbreakers, casanovas, fuckboys and fuckgirls — they mean danger, get out, this person will ruin your life.
There's plenty of evidence in both pop culture and history of the slut bang being bad news. Elvis and James Dean both had slut bangs, as did Johnny Depp in Cry Baby, a film where he seduces a woman with his hot singing voice and ruins her life. When Jacqueline Toboni's slut bang comes out on The L Word reboot, you know some poor person is about to have their heart broken. That rogue lock of hair that slips free of Don Draper's Brylcreem when he's especially angry and about to do something especially rude? A proto slut bang.
The modern face of the slut bang is G Eazy, which should tell you all you need to know. Drake, meanwhile, has a spiritual slut bang.
Having slut bangs isn't necessarily evidence that someone will break your heart and ruin your life. Sometimes it's simply a phase, indicating that someone may be going through a particularly chaotic period of their lives. Kristen Stewart sometimes sports a slut bang, as has Zayn Malik, Timothée Chalamet, and Cara Delevigne on occasion. Brad Pitt did in the '80s, and Clea Duvall did when she was goth. Maybe steer clear of the occasional slut bang-wearer while they have one, but otherwise, you're probably in the green.
Of course, not everyone with a slut bang is bad news, but the presence — or past evidence — of one should make you wary. If you fall for someone with a slut bang, you are high risk for falling in unrequited love with them. A dear friend of mine, for example, once dated a man with a slut bang, and the less said about their breakup the better.
I can only speculate on the science behind the slut bang. While I don't understand its appeal — what if it gets in my eye? — many maintain that there's something about its grossness, its greasiness, that holds a certain erotic appeal. My personal belief is that there's something performative in deliberate disheveledness that should make us wary — why spend time trying to look nice if you're just going to then feign messiness? And isn't a single shard of bang just annoying? Hanging over your eyes, tickling your forehead?
Indeed, there's something very contrived about the slut bang. The styling implies a kind of drama and superficiality which I'm just going to assume is a metaphor for your personality. So, if you see one, do the smart thing and walk away. Recognize the slut bang for what it is: a warning.