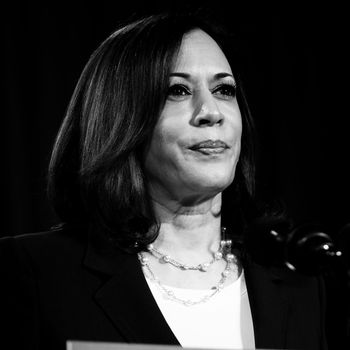 Photo: Michael A. McCoy/Getty Images
Two people connected to the Biden-Harris campaign have tested positive for coronavirus, including Liz Allen, Kamala Harris's communications director. The other person is a non-staff flight-crew member. The campaign learned both people tested positive on Wednesday.
Biden campaign director Jen O'Malley Dillon said in a statement that neither Biden nor Harris had come into close contact, as defined by the CDC, with either of the individuals who tested positive in the two days prior to their tests. Nonetheless, Harris will suspend her in-person campaign activities through Sunday, October 18. Her husband, Doug Emhoff, who had no contact at all with the individuals, will resume campaigning on Friday.
The Biden-Harris campaign's statement was notable for its detail compared to the releases from the White House in the last few weeks regarding positive diagnoses in the administration. DJ Judd, a CNN reporter, wrote on Twitter, "Five months covering the Trump campaign, where several members of campaign and White House staff have tested positive for Covid, and I have never received a release detailing possible Covid exposure in this detail."
The campaign release included information on the last time the two people who have tested positive were with Harris — a flight on October 8 — and even noted that all parties were wearing N95 masks, and that everyone else on the flight, including Harris, has taken a PCR test. It said that they had subsequently taken time off, during which they attended "personal, non-campaign events," and before returning to work had to be tested.
"These protocols help protect the campaign, the staff, and anyone who they may have contact with," the release said. "The importance of having such protocols … have been illuminated once again."