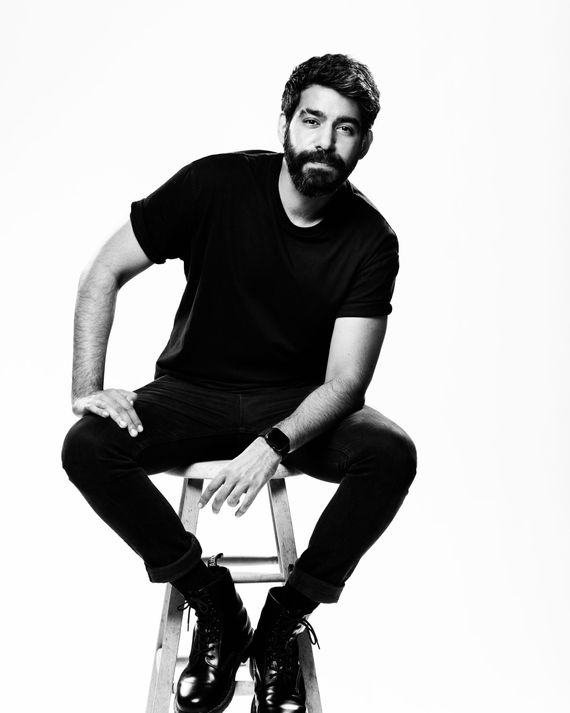 Photo: Eike Schroter/Netflix
Normally I'd avoid something like The Haunting of Bly Manor, Mike Flanagan's new Netflix series about, among other things, a cursed English estate and the dead people that inhabit it. But then I heard that everyone in Bly is hot, so I thought, Why not? 
The rumors, I soon found out, were true: Between the gorgeous butch groundskeeper (Amelia Eve) and Victoria Pedretti's stunning, terrified nanny, I could fully stomach the horror, which is often courtesy of Oliver Jackson-Cohen, an attractive and malignant ghost. But of all of the pretty, scary people at Bly, I was most charmed by Owen, the mustachioed, bespectacled cook, played by Rahul Kohli.
Owen is the village heartthrob, but just try convincing Kohli of that. In real life, he's extremely self-deprecating, and finds it hilarious that he's supposed to be the big catch: "Amelia [Eve] has a massive perm and looks like a babe. Oliver [Jackson-Cohen] is wearing '80s clothes, but looks like James Bond. And then I went for the '80s look and I look like fucking Joaquin Phoenix in Her."
I have to disagree with him: Video dates are trash, but virtual Kohli is a relief. Have you ever been smoldered at? Effectively? That's just his face (really hot), and combined with his accent (really British), and height (six-foot-four), Kohli really does deserve his place on the handful of "hottest actors" lists he's appeared on.
It's the kind of height that screams was almost a pro rugby player, but got injured and went into acting, but Kohli has always sucked at sports — he grew too fast, was weak, and couldn't run ("and I smoked, which is probably the main thing"). That was fine for him, though — he says he was (and is) "a loner anyway," and was more of the comic books and video games kind of kid. They were interests that primed him for the day that changed everything: his 11th birthday, when he was given the Star Wars trilogy on VHS.
He binged all three overnight. "Immediately my life changed," he says, his eyes glazing over slightly as he describes the moment. He became so obsessed he broke into the studio where George Lucas was filming Attack of the Clones (2002) — he had written a letter for Lucas, begging to be an extra, and made it as far as the studio's car park before he was escorted off the premises. Then it occurred to him that if he became an actor maybe he could actually appear in Star Wars, a job he ended up loving more than his beloved sci-fi franchise. "So it got me here," he says of his adolescent mania.
"Here" is appearing in several major British TV dramas (EastEnders, Holby City), a few long-running CW shows (iZombie, Supergirl), The Haunting of Bly Manor, and another Flanagan horror show, Midnight Mass, which Kohli is filming now in Vancouver. You'd think with this record he'd be a horror buff, but he can't stand the genre — he's "just too fucking scared." He chalks it up to the lack of control, the not knowing of it all: "Horror doesn't give a shit. It takes you on a journey and you can't stop it unless you just ultimately tap out," he explains, boring deep into my eyes over the video as if to impress upon me how demented the concept is.
Filming Bly, however, was a delight: "I cooked a lot of sausages, and I got to hang out with the kids," he recalls, referring to Amelia Bea Smith and Benjamin Evan Ainsworth, who play creepy, occasionally possessed British children in the show. He notes that a lot of the scenes between Owen and the children are improvised, because they all got along so well: "I've always had more patience for kids than I do for adults," he explains. "I couldn't give a fuck what an adult has to say, but I will spend so much time trying to understand what a kid wants." Even on days when he'd come to set "in a mood," as he tells it, the kids wouldn't care — they'd just want to show him their drawings, and he loved that.
He's happy to be back on set, although he doesn't love Vancouver, where Bly and most of his other shows have been filmed. "This place just represents long-distance relationships, and sleeping in other people's beds," he says. But filming in COVID times isn't bad, it's just that the face mask and shield he wears backstage mess up his beard and hair: "If you take those away from me there's nothing else. I'm not a good actor. You can't even tell I'm tall on the show."
It's a joke, but also not: Kohli is deeply critical of himself — he says he called his publicist and ranted about how terrible he was for an hour after watching Bly. It's obvious, though, that he has a lot more than facial hair going for him. His personality is a fascinating blend of blasé and earnest, and he has a kind of unaffected intensity that makes it difficult to look away from him when he's speaking. He says he's an atheist with "a weakness for astrology" (he's a Scorpio), a lone wolf, and an obsessive, whose fixations have included Japanese cinema and the Rocky franchise. He's extremely funny, both in the one-liner kind of way, and the deranged way. In short, just talking with him is unpredictable, and thrilling; watching him act is even better.
But Hollywood is hard, especially when you're a brown guy who's not yet big time, is frequently typecast, and still gets mistaken for other South Asian actors who look nothing like you. Kohli's real dream, he jokes, is simple: He just wants to be breathlessly covered by the tabloids in the way the Pussy Posse was in the '90s, "just once, like: Hollywood's bad boy, Rahul Kohli, seen stumbling out of X, Y, Z." He's expressed this desire to castmates and fans so often that "Hollywood's Bad Boy" has caught on as a real nickname.
It stuck, of course, because Kohli is such a decent guy. Glancing at his Instagram, you'll see a photo of him getting a COVID nose swab with the caption "Sex in 2020." At one point during our conversation he refers to his "man crush" on a co-star and immediately corrects himself: "Actually, I don't say 'man crush' anymore. Strike that. It's a crush. I don't like that toxic nonsense." And if you're still not convinced, please watch his Bly audition tape, filmed by his mother:
In fact, Kohli may be the ideal Hollywood bad boy: He does all the bad-boy stuff — rides motorcycles, gets tattoos, plays guitar, and even has an eyebrow slit, which in my opinion looks very devil-may-care. But there's thankfully nothing actually bad about him; in fact he's so net good — funny? Nice? Good politics? — that he's the kind of person who makes you want to be better. "It's fine right now because I don't do anything bad," he says of the bad-boy moniker. "That name will haunt me the minute I run someone over because I was texting. Until then, we can get it to stick."