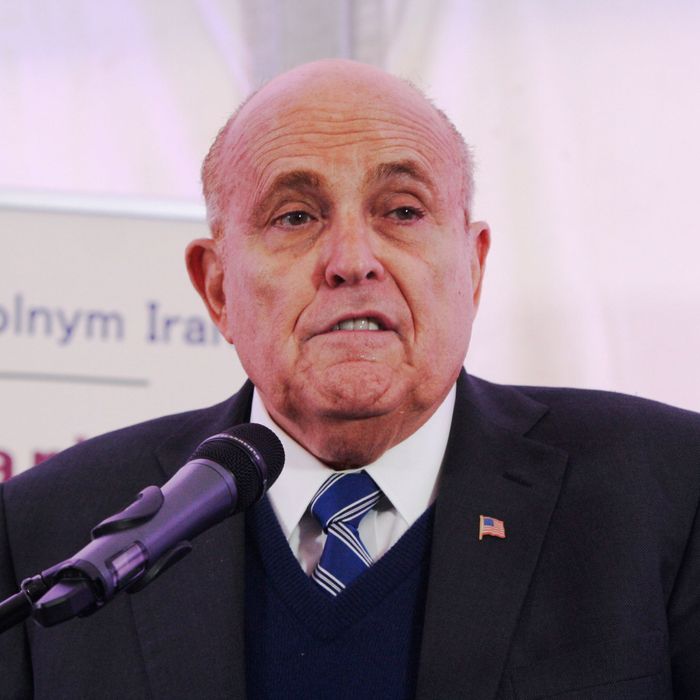 Photo: NurPhoto via Getty Images
Somehow, Rudy Giuliani's reputation has plunged further into the toilet bowl with a lecherous appearance in the Borat sequel, which will be released on Friday.
In the film, Borat Sagdiyev — played by Sacha Baron Cohen — has been sent to America by the Kazakh government to bribe Vice-President "Mikhael" Pence and other Trump allies with a monkey. After the original gift falls through, his daughter — played by Maria Bakalova — becomes the bait.
The young blonde actress poses as a TV journalist for a conservative news show in order to interview Giuliani. Sitting in a hotel suite, they engage in some light COVID-19 banter, in which Giuliani claims Trump saved a million lives and jokes about eating bats. Then things become more intimate. While drinking whiskey and telling the woman that she "looks pretty good in front of the camera" the former New York mayor agrees to have a drink with her in the bedroom.
What follows is even more unsettling. He mutters "come here, come here," while unhooking the mic from her baby blue dress. "You can give me your phone number and your address," he says, sitting down on the bed and patting her on the hip. As she untucks his dress shirt, he lies back on the bed, breathes heavily, and puts a hand in his trousers.
Then Baron Cohen, in character as Borat and dressed in lingerie, bursts into the room. "She's 15! She too old for you!" he says.
"Why are you dressed like this?" responds Giuliani.
Giuliani later reported Baron Cohen to the police and told the New York Post, "This guy comes running in, wearing a crazy, what I would say was a pink transgender outfit … I thought this must be a scam or a shakedown." (The police did not find any evidence of a crime.)
Giuliani has not responded to a request for comment from the Cut, or from the Guardian, which first reported this story. On Wednesday evening, however, he tweeted his acknowledgment of Borat Subsequent Moviefilm, calling the leaked clip "a complete fabrication."
"I was tucking in my shirt after taking off the recording equipment," Giuliani wrote in the first of four tweets. "At no time before, during, or after the interview was I ever inappropriate. If Sacha Baron Cohen implies otherwise he is a stone-cold liar."
"This is an effort to blunt my relentless exposure of the criminality and the depravity of Joe Biden and his entire family," he continued in tweet three, going on to warn of "much bigger dumps off of the hard drive from hell" in coming days, an apparent effort at deflection.
The lecherous Borat moment featuring Giuliani is the latest in a string of very embarrassing headlines for Trump's lawyer. He's spread misinformation about COVID-19, coughed his way through an anti-mask interview, and gave the New York Post some "political dirt" on Joe Biden and his son Hunter — the aforementioned "hard drive from hell" — the credibility of which has even been questioned by the paper's own staffers. Giuliani reportedly turned over a copy to Delaware police this week, who in turn handed it to the FBI.
But back in July, Giuliani had a positive takeaway from being caught on camera with his hands down his pants, in front of a woman young enough to be his granddaughter. After realizing he had been pranked by Baron Cohen, Giuliani told the Post, "I thought about all the people he previously fooled and I felt good about myself because he didn't get me."
This article has been updated to reflect Rudy Giuliani's denial of the Borat incident.