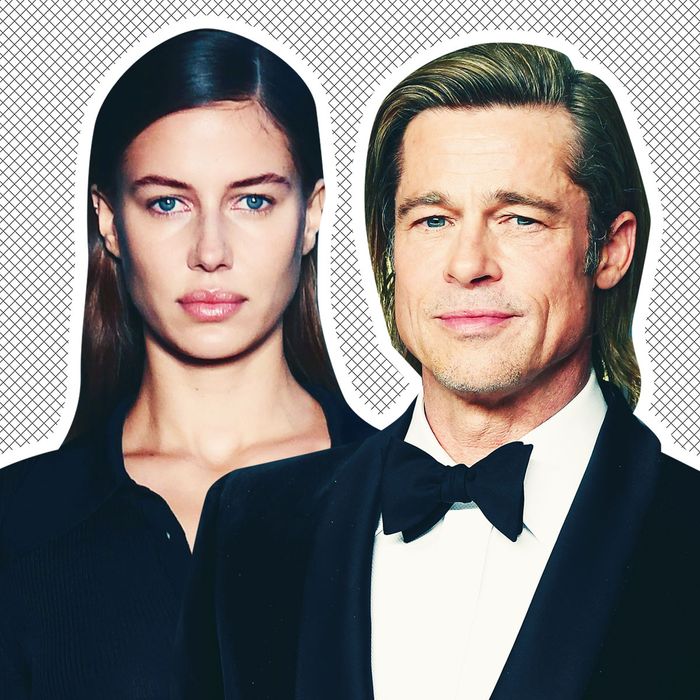 Nicole Poturalski and her rumored former sidepiece, Brad Pitt.
Photo: Getty Images, Shutterstock
It brings me no pleasure, absolutely none at all, to report that Brad Pitt and his rumored girlfriend, Nicole Poturalski, have apparently broken up. You remember, the German model of perennially sunny Instagram disposition? Who turned out to be in an open marriage with a Berlin restaurateur allegedly uninterested in "negativity or jealousy"? Who accompanied Pitt to his French château-slash-winery this summer, sparking all the gossip? According to Us Weekly, they're done! Finished! "Over for a while now," to quote the outlet's "exclusive source," and what's more: "They had a short-lived relationship that was never too serious."
Ouch if true.
As of August, when the pair were first spotted kissing in public, various reports claimed Pitt and Poturalski may have been dating for nine months or so. The pair were first photographed doing a date-like activity back in November 2019, taking in a Kanye West concert from a VIP box at the Hollywood Bowl. (Another of Pitt's millennial friends, Alia Shawkat, was also there.) Originally, Page Six's informants said that Pitt and Poturalski were "seeing each other," which is admittedly not the same thing as "seriously dating." In September, Us Weekly reported that it was "a go-with-the-flow situation," and at no point had Poturalski been "running around yelling about her love for Brad from the rooftops." Rather, her work often took her to Los Angeles, which is where they mostly hung out. So it is possible that we maybe got a little too excited about the whole thing.
Well, but how could we not, when objectively speaking, having an open-minded, restaurant-owner husband and Brad Pitt as your sidepiece is an uncommonly good place to be. Most of us will never find ourselves at that particular crossroads, so we have to live vicariously. Plus, a comfortable romance that unfolds at both parties' respective leisures, with destination dates and the ambiguous blessing of a primary partner? These are conspicuously plush and flexible terms, and while it's possible things just amicably ran their course, I ask you: If these two can't make it work, who can?