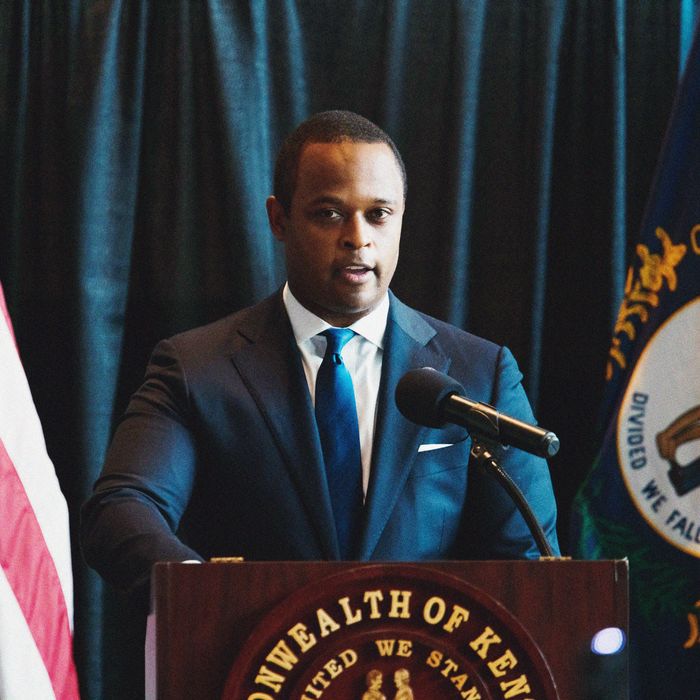 Attorney General Daniel Cameron.
Photo: Jon Cherry/Getty Images
On September 23, as the country held its breath, a grand jury assembled in Louisville, Kentucky, handed down its decision on the killing of Breonna Taylor. Attorney General Daniel Cameron announced that only one of the officers present when Taylor was shot to death would be indicted on criminal charges. And the charges for that officer, Brett Hankison, were for wanton endangerment — for recklessly firing his weapon into surrounding apartments. The officers whose bullets actually hit Taylor, Myles Cosgrove and Jonathan Mattingly, could not be charged, he said, because their actions were justified under Kentucky's self-defense laws. "And the grand jury agreed," Cameron repeated more than once during his press conference.
Days later, in an extraordinary move, a member of the grand jury filed a motion to unseal records of the proceedings and requested to be able to speak freely about the case, "so that the truth may prevail." The juror accused Cameron of "using the grand jurors as a shield to deflect accountability and responsibility."
Some records were made public on October 2. And now, after another member of the jury sued the AG, all members of the panel have been granted the right to speak publicly. One juror has said that the grand jury explicitly asked about additional charges for the officers and was told that "there would be none because the prosecutors didn't feel they could make them stick." Another has called the proceedings "criminal." Will any of it matter? Here's what we understand, for now, about the grand jury in Breonna Taylor's case:
Why did a grand-jury member sue the attorney general?
Grand-jury proceedings are carried out in secret, and the jury members only hear evidence presented by the attorney general. (In a court case, members hear from multiple sides.) When Cameron said the jury "agreed" with his decision to solely charge Hankison, he seemed to imply that jurors had been allowed to weigh the option of charging all three officers.
But that's not true. As the New York Times reports, "The juror was unsettled by the fact that the grand jury was not given an option of charging the two officers at a time when the community has been roiled by demonstrations seeking their indictment. The 12-member panel was presented only with possible charges for Detective Brett Hankison." Cameron's office has since admitted that he "recommended" only those charges be filed.
The juror, who filed the motion on September 29, sought for the proceedings to be made public so that Cameron's statements about the jury's views can be challenged. "This is something where the juror is not seeking any fame, any acclaim, any money," said Kevin M. Glogower, the juror's lawyer. "I think the point of the whole action is to get more into the narrative. It's not really about changing the narrative, it's about opening it up to a more full truth for everybody to see."
"Did he present any evidence on Breonna Taylor's behalf?" Taylor family attorney Ben Crump has asked about Cameron's conduct during the proceedings. "Or did he make a unilateral decision to put his thumb on the scales of justice to help try to exonerate and justify the killing of Breonna Taylor by these police officers?"
What about other statements Cameron made that have been criticized as misleading?
The juror's motion cast doubt on some of Cameron's other statements about the evidence against the officers. During his press conference, Cameron also asserted that the officers did not, in fact, execute a no-knock warrant at Taylor's home, despite the fact that a judge signed off such a warrant, because they clearly identified themselves. But only one witness, aside from the officers themselves, supports this claim. Of 11 neighbors interviewed by the New York Times, ten reported not having heard anything before the police battered down Taylor's door. As Zak Cheney-Rice explains, investigative documents recently obtained by the Louisville Courier-Journal show that the AG's lone non-police witness originally said they heard nothing but changed their story months later when investigators circled back for another interview.
If the police did not, in fact, identify themselves, it would actually undermine Cameron's very claim that Mattingly and Cosgrove were justified by self-defense. Kentucky's "castle doctrine" law says that law-enforcement officers are the only home invaders that residents aren't allowed to use deadly force against — but they must clearly identify themselves before entering.
What do the grand-jury records contain?
Cameron's office agreed almost immediately to the juror's motion to release records of the grand-jury proceedings, then filed a motion to delay. Approximately 15 hours of audio recordings were released two days later, on October 2. They included evidence and witness testimony presented to the jury but did not include jury deliberations or prosecutor recommendations, which is what had inspired the juror to sue the AG's office in the first place.
NBC reports that the recordings of officers' accounts paint "a chaotic and confusing scene" of the night Taylor died. One detective, in recordings, said officers had been briefed that Taylor might be at home with a small child (she sometimes looked after her sister's goddaughter) but that it "wouldn't be a problem." Jurors also heard Hankison's possible court defense for his charges of wanton endangerment: that he "believed there was someone in the apartment repeatedly shooting automatic-rifle fire, which he assumed was an AR15," per NBC. No other officer has supported that claim. Jurors also heard Kenneth Walker reiterate his testimony that he and Taylor had been woken up in the middle of the night by someone pounding on their door but that no one had responded when they asked "Who is it?"
What are the other jurors saying?
Glogower, the attorney representing the first juror, has since taken on as a client a second unnamed juror, who joined the suit against Cameron's office on October 13. The juror was suing to be able to speak publicly after Cameron's office appealed a judge's ruling that granted them the right. On October 20, Jefferson County Circuit Court judge Annie O'Connell denied his appeal and said that all members of the panel could be allowed to speak openly about the proceedings.
Shortly after, the juror released a statement. "The grand jury did not have homicide offenses explained to them," it said. "The grand jury never heard about those laws. Self-defense or justification was never explained either. Questions were asked about additional charges and the grand jury was told there would be none because the prosecutors didn't feel they could make them stick. The grand jury didn't agree that certain actions were justified, nor did it decide the indictment should be the only charges in the Breonna Taylor case. The grand jury was not given the opportunity to deliberate on those charges and deliberated only on what was presented to them. I can't speak for other jurors but I can help the truth be told."
That juror and another member of the jury, both men, spoke with Gayle King of CBS This Morning for an episode airing in October 27. Remaining anonymous, they were extremely critical of Cameron's handling of the grand-jury proceedings. "They were criminal leading up to this in everything that they — the way they moved forward on it, including the warrant," one said. The other agreed, "Their organization leading up to this was lacking … that's what I mean by they were negligent in the operation."
Will any of this impact the outcome of Taylor's case?
It's very unlikely that Breonna Taylor's case will go back in front of a grand jury, according to Samuel Marcosson, a law professor at the University of Louisville. As the prosecutor in this case, Cameron is the one who decides whether another hearing should take place, and he has been steadfast in his position that Mattingly and Cosgrove were justified in shooting more than 30 bullets into Taylor's home. A recording of evidence he's already heard likely won't change that, nor will the juror's statement that the attorney general did not present homicide charges as an option. Cameron doesn't seem keen to publicly admit to any fault.
That being said, under certain hypothetical scenarios, Cameron could be forced to call another hearing. If there's enough new evidence that emerges to contradict the AG's narrative — like a new video that appears to show the officers violating department policy, or proof that Taylor's boyfriend didn't injure one of the officers — he might impanel a new grand jury. And if there's enough public outrage over the recording or any new evidence, Cameron might feel pressure to recuse himself from the case and appoint another prosecutor to reevaluate the charges. Marcosson said the juror's homicide claim "adds weigh to calls for a new grand jury" but that he would "be shocked" if that happened, since "the attorney general doesn't want to acknowledge any missteps on his part." Taylor's case could still play out in federal court, since the FBI is also investigating her murder.
Cameron's career could very likely be in jeopardy. Sam Aguiar, a lawyer for Taylor's family, released a blistering statement in response to the second juror's comments, saying, "Daniel Cameron should be ashamed of himself. He made a decision based upon a political agenda. He tried to hide behind secrecy rules, and now his lies got exposed. Everything he's done has been an abuse of the system. Breonna Taylor's family deserves and is entitled to a prosecutor committed to doing the job." On October 20, Cameron said in a statement, "As Special Prosecutor, it was my decision to ask for an indictment that could be proven under Kentucky law. Indictments obtained in the absence of sufficient proof under the law do not stand up and are not fundamentally fair to anyone."
This post has been updated with additional information.