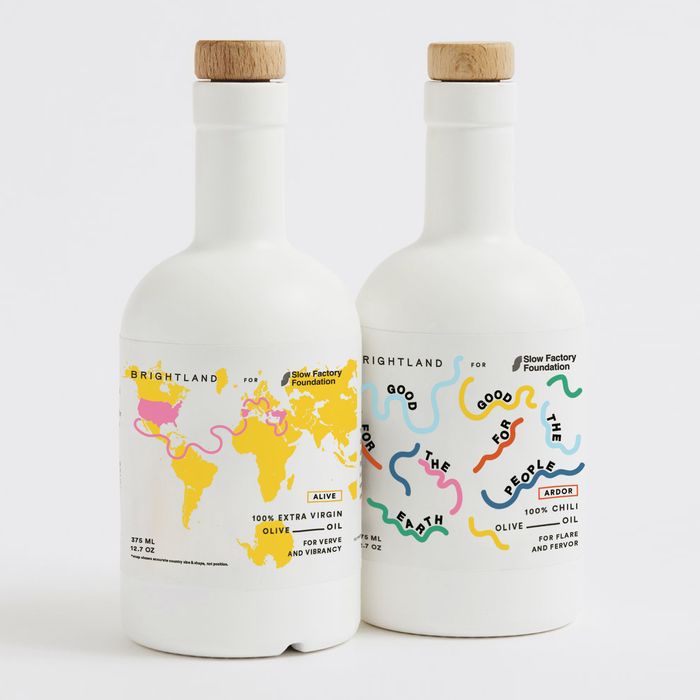 Photo: Courtesy of Brightland / Slow Factory
When it comes to foolproof gifts, fancy olive oil is a pretty surefire way to make the home cooks in your life happy. It lasts forever, and it's not something a person would necessarily buy for themselves. Brightland, the California-based pantry-essentials brand, is a go-to for highly giftable (and Instagrammable) bottles. And last week, it released two new products that keep on giving.
In collaboration with the Slow Factory Foundation, a nonprofit working at the intersection of social and environmental justice, Brightland is selling two beautiful, environmentally friendly, and informative bottles of Alive olive oil and Ardor chili oil for $40 each, or $80 for both. One hundred percent of the proceeds will go to the Slow Factory Foundation's new Open Education initiative for Black, brown, indigenous, and minority ethnic communities.
This is the first time Slow Factory has partnered with the food industry on a product — you may be familiar with the organization for its educational work in the fashion space — but co-founder Céline Semaan describes the partnership as an "organic" one. (No pun intended.)
"Brightland was born out of a mission to educate and spread awareness about the olive-oil industry and the pantry essentials we use every day, with particular consideration to the importance of sustainable production practices," said the brand's founder, Aishwarya Iyer. Climate change has had a measurable impact on the olive-oil industry, both in the Mediterranean and on the U.S. West Coast, where Brightland oils are produced on a California family farm. Together, Brightland and Slow Factory hosted a class on the subject at the end of September, which you can still register for. Even the bottles themselves have an educational aspect: A map on the Ardor chili oil bottle specifically acknowledges the impact of colonialism as well as the olive tree's journey over time until it reached California.
Brightland and the Slow Factory's limited-edition bottles are available for purchase at Brightland.co. It may seem a little early for holiday shopping, but this seems like exactly the kind of thing that will sell out long before December.