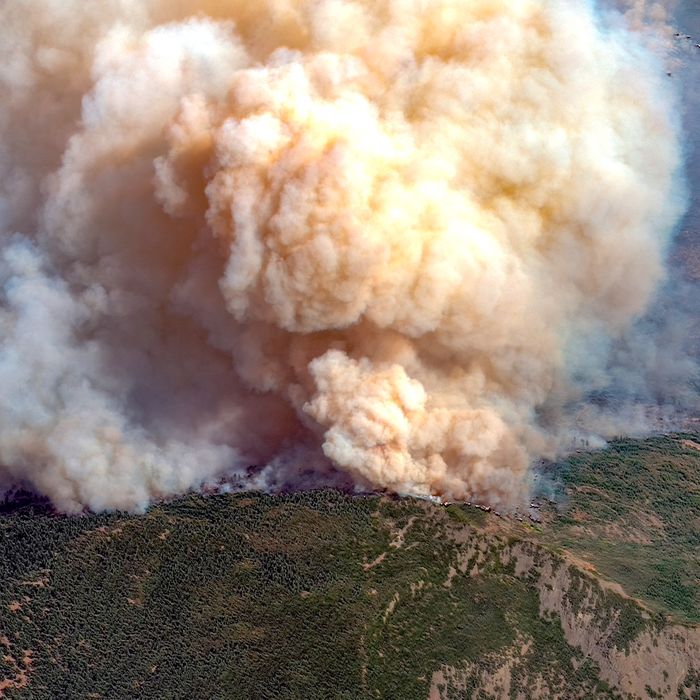 The August fire complex has now grown to the state's first-ever "gigafire."
Photo: DigitalGlobe/ScapeWare3d/DigitalGlobe/Getty Images
The West Coast has been ablaze for months, sprawling wildfires burning more than five million acres from California to Washington. Dozens have died, and hundreds of thousands have been displaced. In California, one fire in particular has grown so vast that it's ascended to a new, seldom-seen size class.
Per the Guardian, the August complex fire in Northern California is now a gigafire, meaning it has engulfed more than 1 million acres of land.
So far, the August complex fire comprises 1,006,140 acres across seven counties — an area larger than the state of Rhode Island — and has killed one person. Named for the month in which it ignited, the inferno began as 37 separate fires sparked by a lightning storm, according to CNN. A number of those smaller blazes merged into one megafire — which is to say, a fire that encompasses more than 100,000 acres — and on Monday, CalFire upgraded it to a gigafire.
The August complex fire, 58 percent contained as of Tuesday morning, broke the state's record for largest fire weeks ago, unseating the devastating Mendocino complex fire of 2018. That's just one of 2020's grim climatic milestones: This year's fire season alone accounts for five of the six biggest fires in California history. In mid-September, four West Coast cities also ascended into the top 10 most polluted places on Earth, with Los Angeles coming in eighth; San Francisco, sixth; Seattle, third; and Portland, first.
While air quality rankings can of course improve, fire season in the West promises to worsen with the climate crisis. This year, a number of factors, all exacerbated by atmospheric warming — prolonged dry spells; sustained, soaring temperatures; in some areas, powerful winds — combined to create "apocalyptic" conditions, as former FEMA director Roy Wright previously put it to the New York Times. The resultant blazes have often defied firefighters' containment capabilities, in some cases creating their own extreme weather.
Unfortunately, as CNN reports, the August complex fire is not the first gigafire in national history: Alaska's Taylor Complex fire, in 2004, charred 1.3 million acres, while 1988's Yellowstone Fire scorched 1.58 million acres. The way things are going, California's current gigafire seems unlikely to be our last.