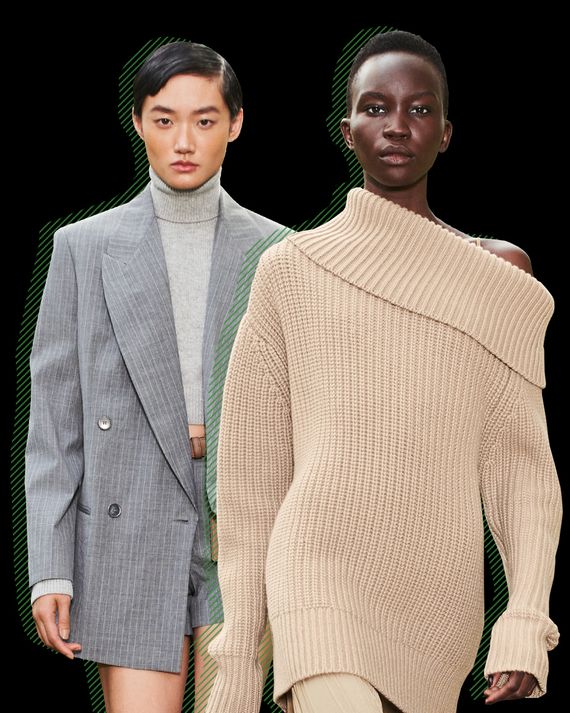 Photo: Courtesy of Michael Kors
Yesterday, more than a month after New York Fashion Week, Michael Kors showed his spring clothes privately to editors and top clients, who were at home in places like Chicago, London, and the Hamptons.
Kors himself was in a loft in Chelsea, flanked by greenery and dressed in his usual gunslinger's black, with a mask. This was just a Zoom taster, a meet-and-greet with the voluble designer. Kors and his staff had also put together a runway video — shot at a community garden in the Bronx. The digital experience featured a performance by American Idol star Samantha Diaz, a short documentary, and a digital look book. The public, as of today, can view everything on his website.
In one sense, Kors has gone back to the future. He has been in fashion long enough — 39 years — to recall when the New York shows were in October, after Paris. There's a logic to it still. "People are just seeing the fall clothes for the first time" in stores, he says. "Why are we showing them the spring clothes before they've even seen the fall ones?" And much of the new collection addresses another pet peeve: the relatively recent idea that high-quality ready-to-wear clothing should be "seasonless" because of its expense (and also the ubiquity of air-conditioning).
"That's baloney," he says. "The simple truth is the weather is different in August than it is in October." No one dining outside this fall would disagree with him.
But, in another sense, Kors's multilayered production was pure 21st century. It communicated far more information and intimacy — with Kors personally — than his live runway shows generally do. And by inviting Diaz to perform and using the garden (part of New York Restoration Project, a nonprofit founded in 1995 by Bette Midler to add green space to the city), he was promoting community at a critical time. Indeed, a number of designers have touched on the theme of community this season. I think of Prada's digital show, which seemed to subtly talk to people who've followed the work of Miuccia Prada and Raf Simons for years — or the scrapbook that Nadège Vanhee-Cybulski of Hermès compiled from images that different artists made of her garments. But Kors took the idea further than anyone.
All this demonstrates why having more time to create matters, though the proof is finally in the designs. You could tell from the first outfits that Kors's aim was to show how the clothes might be worn during the pandemic, and afterward. "Longevity was key," he says. "And probably more than anything we've ever done — because we had time — everything had to be versatile." So sarong skirts appeared with either oversized sweaters (often in a linen and silk blend) or blazers. Beach or urban. Shirt dresses in light blue poplin or striped navy georgette had the same dual quality, if belted or layered with a masculine suit vest — or layered with pants.
A number of looks were Kors summer standards, like a mini shift embroidered all over with tiny brown wooden beads and shown with sandals. In fact, the dress was first done for spring 1991, he confessed, and later worn by Anna Wintour, with heels, to a party. "I saw the dress as an evening dress then, and now I see it with flat sandals. It's just the perfect piece."
Kors did nine digital trunk shows over the spring and summer, talking to clients here and abroad, and to a fault this collection appeals more to what women already know than what they don't — more to comfort and security than to risk and surprise. And the earth tones, grays and blues, had only grass green to spike them up. Still, what came through felt like a far more considered choice of fabrics and handwork than you usually grasp from a big Kors runway show.
I asked him what he's learned from the past few months.
"I think the experience has told us that we have revved the whole process into an indigestible meal," he said. "The most wealthy fashionista in the world could not absorb this many collections, this much product." He also realized that if Prada could forego a live show and Gucci could skip one altogether with no apparent downside, then "we could do anything. And we have to do what's right for that moment, right for that designer."
He added, "For all I know, we could show in Bora Bora. Or in Big Sur with an audience of six. Or I could show in Central Park to the public." Stay tuned.