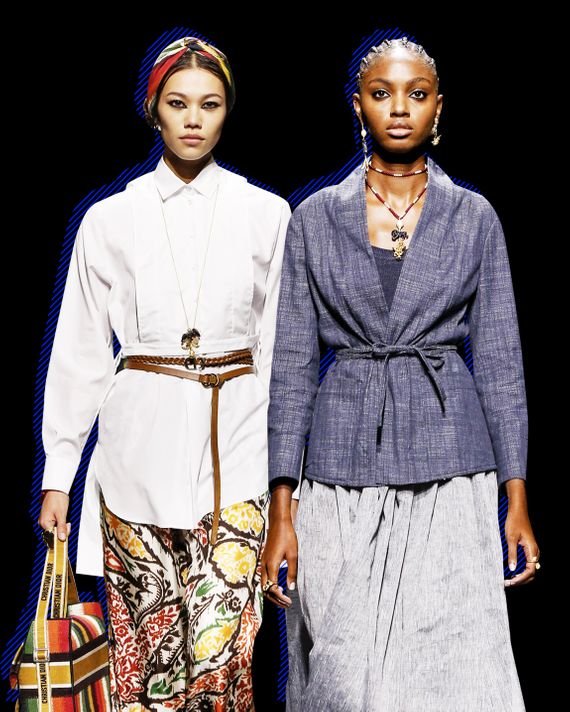 Covering the Paris collections by phone and Zoom is certainly a testament to technology's reach, but it tends to reduce the proceedings to miniature. Or, I sometimes feel I've spent the morning underwater, in a submarine, and my computer's camera is my periscope seeking out a designer in a corner of a sprawling fashion house. Oh, it's you, Maria Grazia! Howdy!
Running a few minutes late for a Zoom call on Wednesday is Maria Grazia Chiuri, the women's designer at Dior, now settled on a couch in an office just as someone in a nearby room began to hammer or perhaps do handstands. "Can you ask them to stop?" she said. If the situation is odd for reporters, it's positively weird for fashion employees. Not only did Dior put on a live show in Paris, for about 350 socially distanced guests, but it planned to photograph the clothes and accessories in detail for customers around the world. The company also had to follow COVID protocols that kept changing.
On top of everything, Chiuri told me, "Fashion Week is empty." There was no front-of-the-house commotion — a feature of Dior shows — and certainly no backstage crush. "It was so calm. I've never in my life eaten before a show. Yesterday, I ate lunch."
Chiuri's shows are usually influenced by her interpretation of works by women artists, writers, and occasionally women clothing designers. This time, the poles (as I read them) were the functional experiments of Italian avant-garde designer Nanni Strada and some sketches that Christian Dior made for the Japanese market in 1957, in particular a jacket based on a masculine coat meant to be worn at home. The result was a soft, belted, lapel-less jacket that Chiuri offered in a variety of fabrics, including washed chambray.
"I tried to make the silhouette Dior but in a way that is more soft," she told me. "To make a collection that's too traditional and couture is not relevant to our style of life." She also thinks that the relaxed shapes — the simple linen dresses, the abundance of knitwear in earth and denim hues, the extra-long white cotton shirts — make sense if travel continues to be a hassle. "We live less in public space and more in our homes, so the relationship with clothing is completely different," she said.
The clothes that seemed to specifically address that reality were lovely, notably the tailored shirts and a sweet caftan in a Dior gray and pink striped linen with a white lace front. Some of the wrap jackets were great, especially in chambray — because they hinted of the Japanese workwear tradition — but the style became repetitive and sometimes, based on what Chiuri paired with it, downright matronly.
I also didn't see the connection between the first third of the show — some paisley and Scheherazade pieces in wine and earth tones — and what followed. She said that the various segments were based on "my idea of every woman that I like — Virginia Woolf, Simone de Beauvoir, Susan Sontag … All these women that write." Chiuri is hardly the first designer to be inspired by the creaturely cardigans and men's shirts of female writers. On the one hand, it was kind of charming that Beauvoir's characteristic headband appeared on a Paris runway; all the Dior models wore them. But, on the other, does it matter today? Probably not.