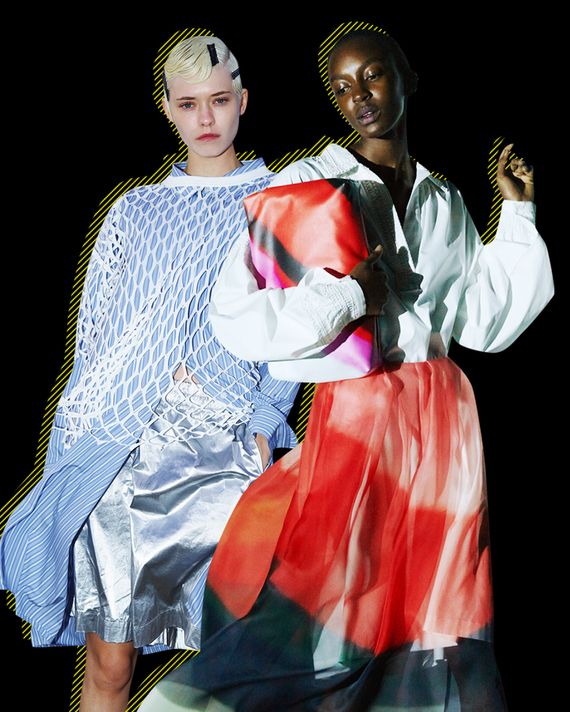 Photo: Viviane Sassen/Courtesy of Dries Van Noten
The new Dries Van Noten collection is a perfect study in what you hope a designer can learn from this excruciating year. It is lean, agile, witty, and more youthful than any he has done in years.
A year ago, Van Noten, who is 62 and based in Antwerp, drew raves for his collaboration with Christian Lacroix, with its feathers, frills, and lush palette; before that he did a marvelous show that combined couture volumes with sportswear. That earlier show, in the fall of 2018, came just months after he sold a majority stake in his brand to the Spanish luxury group Puig.
Yet the new collection feels like a purging. Gone are the overload of fabric choices, the layers of textures, the gluttony of details. At the time, it probably felt right to serve up a visual feast; everybody else was. And that's what stores and consumers seemed to demand: more, more, more. We were all suckers and we were all — most of us — intoxicated with the romance of his combinations, and so not really questioning if Van Noten was moving his aesthetic forward.
Here's the most obvious difference: the amount of exposed skin. I can't remember a Van Noten collection that showed so much of the body — with swimsuits, tank tops, fishnet skirts. Even the simple cotton dresses with wavy streaks of color keep the focus on the body — and on movement. That was conveyed with the first image in the editorial shoot that Van Noten released on Wednesday, in lieu of doing a Paris runway show. A model's pink shirt is snapping in the wind, blue sky behind him. The shoot was done mostly on a beach near Rotterdam, by the Dutch photographer Viviane Sassen. It was another departure for Van Noten: Though he produces look-book style imagery for retailers and press, he isn't known for editorial-quality images, because he doesn't advertise.
When the quarantine began, Van Noten said, "We immediately started thinking in a different creative way, which for us was a very fresh start. I think that's the conclusion we have from the whole COVID experience, which I think everybody has. We lost a lot, but now we also appreciate the limitations that we have." For example, "the fact that you don't lose so much time by traveling to different parts of the world" for materials and trimmings.
That accounts for the pared-back quality of the clothes. If there's lace, it's just a gesture at the hem of a white cotton shirt shown with dark Bermudas and a gold windbreaker. The result is a more energized look. For the colors and wavy prints, Van Noten's studio collaborated with the Len Lye Foundation in New Zealand. An experimental filmmaker in the 1920s and '30s and later a sculptor, Lye was a contemporary of the artists Henry Moore and Barbara Hepworth.
"The body of Len Lye's work is so rich that there are many things to explore," Van Noten told me. He plans to introduce more styles via social media and in his boutiques in Paris and Antwerp, in January, when spring deliveries start.
The thing is I'm not sure how many designers have seized the moment to reexamine what they do and make a shift. We've seen a mystifying number of presentations that haven't changed in format or attitude, and it makes those labels feel static. Many observers might have said that Van Noten need not have changed, given the buzz around recent shows. But he knew he had to, and that's the difference.
"I don't think we will go back to where we were the moment COVID is over," he said. "In our case, definitely not. We drowned a little bit in our creativity."
I asked Van Noten if the experience has also given him and his partner, Patrick Vangheluwe, new ideas for running the business — say, a new flagship or an expansion of e-commerce. He said that changes are indeed afoot, but he wasn't ready to be specific.
"I said to Patrick, 'Okay, I imagined the end of my career would be a little different than what it is now,'" Van Noten admitted. "But on the other hand, it's a super-exciting time because difficult times create opportunities. Don't get me wrong — it's not that I'm even thinking about the end of my career. It's quite surprising how much energy a situation like we are in produces. You're forced to rethink things. It's also very welcome."