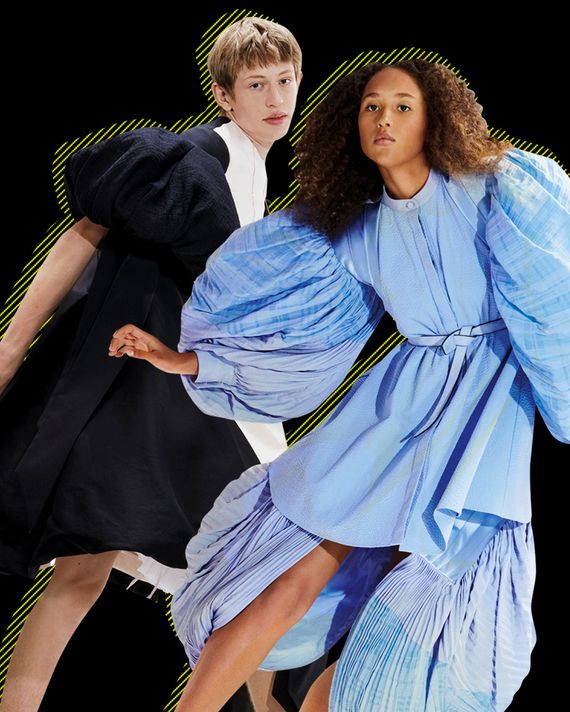 You can't help wondering what historians and future designers will see when they look back at this extraordinary time. One thing I imagine they'll see is a tug-of-war between commerce — business as usual — and creativity, between the standard runway show and the mixed-media formats that some companies are using. By that, I mean videos, a live show (with or without an audience), and printed materials. For example, in advance of her show on Saturday, in Paris, Nadège Vanhee-Cybulski, the women's designer at Hermès, sent a beautifully done scrapbook of images from her new collection and work by various artists who inspire her. Based on an artist's collage album, it sheds fresh light on her sensibility — in a way that simply doing a show in a typical Fashion Week has not. It's as much a record of her dreams and ideas over the past six months as it is an act of generosity.
Jonathan Anderson did something of the same at Loewe. Working with the art-direction studio M/M and the British artist Anthea Hamilton, he created an oversize artist's portfolio containing posters of the various looks, a roll of wallpaper (by Hamilton), and the glue and brush to apply it on your wall. Et voilà! "Show-on-the-Wall," as Anderson called it. In the photos, the models, who include Hamilton, the artist Hilary Lloyd, and the singer Adam Bainbridge, all seem coiled to pounce — off the paper. Someday, I predict, a museum curator will use materials like "Show-on-the-Wall" — or Prada's digital's presentation in a yellow-draped room, with digital cameras functioning as chandeliers — to document the imaginative leaps that happened during the pandemic.
People will also see very different clothes — free, exuberant, detached from commerce. In the past, Anderson's Loewe designs have sometimes labored under their eclectic references — European history, a Japanese ceramicist he likes. And you need a guide for all the fabrics and trims he lumps into the mix. This time, though, he's relied on pure feeling, and the realities of a design team working in isolation. There's an abundance of gorgeous dresses, nearly all in cotton or silk, with huge balloon sleeves, pleated and flounced skirts, and parachute rip cords. And the dominant accessory are sneakers.
"We worked with what we had on hand," Anderson told me over Zoom on Friday. "There's a woman on our team who's a big specialist in embroideries, and she always wanted to do hand broderie anglaise, so I was, like, 'If it's going to get you through the pandemic, embroider as much as you want.' " He laughed.
Another woman specializes in the leather basket weave for Loewe's bags. "I told her, 'I want you do something that would be an exemplary version of the basket,' " Anderson recalled. It became a crazy dress with a woven black dome-like top and a splashy white skirt.
The mood throughout is fun and energetic — and free of the expectations of a luxury brand.
"There's something in this moment where you can become old very quickly," Anderson said when I asked him what future historians will understand about 2020. "You can make things that look incredibly old-fashioned." He added, "It's not that the fashion show is irrelevant. It's irrelevant right now."
That might be the quality that distinguishes designers this season: who shed the trappings of high fashion and who did not. "It's a great moment to explore," Anderson said. "Why not?"