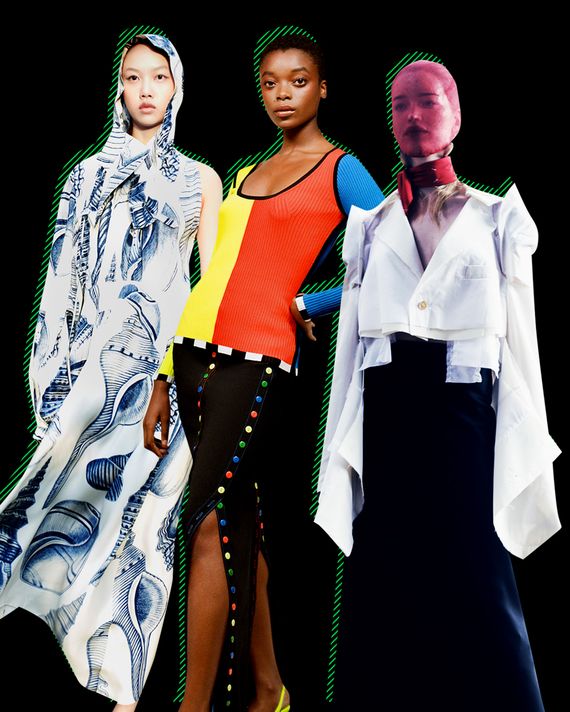 Left to right: Stella McCartney, Christopher John Rogers, Maison Margiela
Photo: Courtesy of the brands.
The first virtual fashion season is not quite over — Michael Kors and Tory Burch are set to show next week, and Raf Simons will launch a women's line under his own name on October 23 — but it's already clear that for some designers, the pandemic has been good for creativity. It's forced them to think differently. "We don't do it enough in fashion," Stella McCartney said on a webinar with journalists.
For years, McCartney showed during Paris Fashion Week, in the same location — the Opéra Garnier — even as she questioned why the industry clung to decades-old rituals. This time, though, she went to Houghton Hall, a stately home in Norfolk, England, known for its series of land art by Richard Long, and filmed her models on the lawn. She also produced an A-to-Z "manifesto" on sustainability — something she's been talking about for a long time and that more and more brands practice.
No one has changed more than John Galliano. Since becoming creative director of Martin Margiela in 2014, the former Dior designer has been virtually invisible, limiting contact with reporters and the public to a seasonal podcast. Anonymity is certainly part of Margiela's story, pursued in the extreme by its founder. But Galliano is the English punk star with Spanish roots who in the '90s turned the runway into theatre, with his own appearance at the end part of the comedy-drama. So the mask of Northern European reserve never fit.
And, thanks to COVID, it's come off altogether. For Margiela, Galliano used to stage what was quite possibly the most boring production in Paris — models moving through a plain white space. But this time, instead of doing a live show, Galliano worked with the photographer Nick Knight to create a 45-minute video. It takes the viewer inside the Margiela studio during the making of the spring collection. Those moments are cut with scenes of a fantasy wedding in Argentina, with plenty of tango. This is the second film that Galliano and Knight have done since early July — the first was for haute couture — and it's almost hard to process the change from his austere earlier productions.
Just as important, the films remind us of Galliano's creative brilliance.
For journalists, all these videos, webinars, Zoom interviews, scrapbooks, and manifestos mean additional work, however helpful. Before COVID, all you had to do was sit down and watch the show, and then let your imagination take over. I've been thinking a lot about this in the past few days — what the high-fashion industry has gained and lost because of the consequences of the pandemic. To an extent, the Zoom calls and press packages largely act, in my view, to close down your senses. And since we're experiencing all this stuff remotely or digitally, what matters most is how we look at and interpret images.
What I see in the work of many designers — here, specifically, Galliano, McCartney, and the American Christopher John Rogers — is the gift of time. We take it for granted that designers have time to be creative, but it's in fact been the thing they've most complained about over the past few years. The lockdown has demonstrated the benefits of having more time. It showed in the precision of their ideas, and with Rogers and Galliano especially, in the quality and the execution.
McCartney often preaches against wastefulness, but in contrast to the two dozen or so zesty-looking outfits shown at Houghton, her previous collections now seem over-stuffed. She honed her tailoring to a sharp, slim jacket with somewhat fuller trousers. This has been a season of oversize pantsuits and coats — from The Row to Vuitton to Balenciaga, reaching drowning volumes. But McCartney gets the proportions right. There's a very cool undercurrent of sports in her collection, but instead of getting literal about it, she confines it to the shape of, say, biker shorts — and then does them as a onesie in powder-blue lace repurposed from earlier garments. Overall, the look is younger and more pertinent, as if McCartney is glad to be finally free of the Paris rat race.
The Margiela collection can almost be boiled down to the tailored jackets and coats, and a few evening looks. They're just exquisite. Some of the jackets seemed based on a late Victorian style, with a pinched shoulder line and peaky sleeves, which Galliano had sliced into various points. Other suit jackets have a wet look in places — I'm not sure how he achieved that, but Knight's images beautifully convey it, along with seam and stitching details. Every nuance matters.
One of the standout looks is a cream-colored jacket, cropped, with a single button — and long, long fluted sleeves, as if whipped up from the table linen. It was shown with a plain below-the-knee black skirt and blood-red sandals laced up the calves. Just as magical — and a reminder of Galliano's eye for color — was a black chiffon dress embroidered with small, scattered blood-red rectangles, and a hem and neckline foaming with silver-gray feathers.
Last month, Rogers won the Council of Fashion Designers of America's award for emerging new talent, largely for his exuberant fall collection, which was strong on evening and red-carpet numbers.
But when I look at images of his spring clothes, I see not only the value of having more creative time, more down time afforded by the lockdown; I also see a truly great talent, far more than his previous shows have suggested. A European luxury group ought to have Rogers in their sights.
On a Zoom call, he told me that he had ordered crayons and markers from Staples in order to have something to do during the lockdown. And he pointed out some of the styles made by a member of his team or a friend, like a catsuit made by a friend named Ryan. "All these concentric circles are seamed, which is incredibly difficult to do," Roger said, holding up the garment. "But he loves sewing and he made it for us."
If that and the Crayolas sound childlike, the results are anything but. This was one of the most astute and modern realizations of a wardrobe that we've seen in awhile. It was also witty and fun, and included well-done pantsuits in both white and chartreuse, overscaled floral prints, ribbed-knit dresses in juicy multicolor stripes, and some wonderful oddball pieces, like a blue striped poplin shirt with mismatched sleeves and a spill of ruffles down the front top-stitched in black.
I thought about Miu Miu's striped knits in hot colors. Rogers is in sync, but the difference is — and it's a huge difference from someone so young — he designs for any age. I can't wait to see what he'll do next.