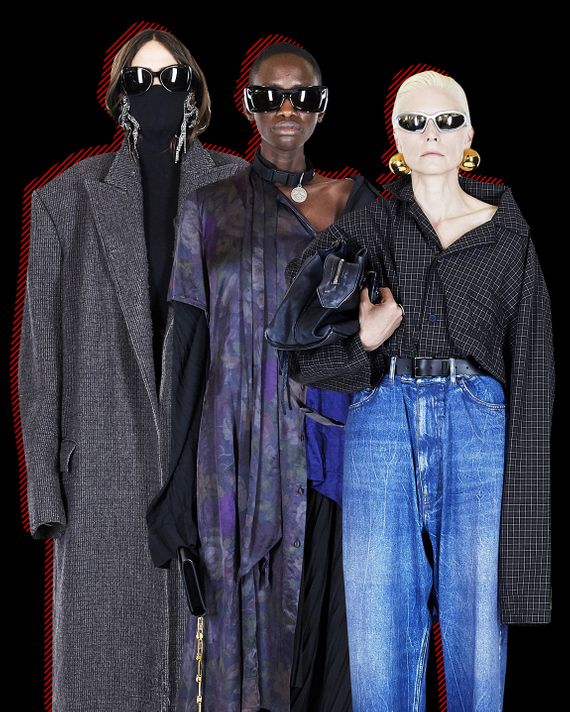 Photo: Courtesy of Balenciaga
The new Balenciaga show is essentially a music video — to Corey Hart's "Sunglasses at Night" — and in it models walk alone through a dark and deserted Paris. The video is clearly a solution to the problems of doing live shows; the street becomes the runway. It's also an acknowledgment of something the industry knew long before COVID-19: Far more people watch shows from their couch or desk than do from the front row.
"I think it's more possible than ever to rethink those century-old rules about fashion," Balenciaga's creative director, Demna Gvasalia, told me in July. He had already planned to do a collection that imagined dress in the year 2030, and the new and strange realities of the quarantine — the reliance on digital technology, the economic need to reduce production — suddenly made his future theme seem timely.
But the scenography is hardly futuristic. For that matter, a metropolis has never looked as uninspiring as Paris does in this video, despite a few glimpses of well-known landmarks, like the Rue de Rivoli. There's no place for our imaginations to go as we watch Gvasalia's models — of all genders, races, and ages — plod past shop windows and empty cafés. Think of the ways that artists have evoked both the mystery and solitude of cities at night — Hopper's Nighthawks, Carol Reed's sumptuous The Third Man, and Helmut Newton's erotic images of women in tuxedoes come first to mind. Those images all had a narrative. But there's no story here.
And that's the point. Gvasalia, after several years of creating themed collections with fantastical sets, has decided to drop that approach and focus instead on wearable clothes for a wardrobe. The shift is partly to do with a reconfiguring of Balenciaga's collections. The one in the video is a pre-summer offering — meaning it consists mainly of commercial items, notably streetwear. Going forward, Gvasalia will show preseason collections during the two main Paris Fashion Weeks, in September and February, and do major collections in June and December. And, starting in July 2021, he will bring back haute couture at Balenciaga. This time, in contrast with Chanel and other couture houses, it will produce made-to-measure clothes for both men and women.
The shift deals with two conflicting realities across the luxury-goods industry. One is enormous demand everywhere for streetwear, which Gvasalia, with his oversized hoodies and Balenciaga sneakers, has fed. Thanks mainly to digital technology, people also expect to see a stream of new products. As Balenciaga said in a press release accompanying the video, "It's all about clothes made and developed faster." When Gvasalia talks about breaking ancient rules, that's in part what he means. But, like many creative designers, he also wants to carve more time to work on design — and that's extremely difficult, given the pace of ready to wear and merchandisers who want more sneakers, and so on. Couture could give him that freedom — and customers craving individual looks a new source.
So the collection on the Paris streets has to be viewed in that context. Many of the clothes — the upcycled denim and leather, the oversize masculine coats — struck me as less futuristic than familiar. Nearly all the garments are made of sustainable materials, and they're also unisex.
Whether or not a drab, down-to-earth style based on recycling and comfy layers will be the look in 2030, that's how the company spun it. Still, there were some uncut gems in the show, like a fluffly, 1940s-style jacket made of piles of black-and-white shoestrings, and the liquid silhouette of a black, zippered track jacket with a matching pleated skirt and, as well, a silvery camisole with dark blue pajama pants.
With fashion still in limbo, their blasé glamour felt, oops, like a relevant story.