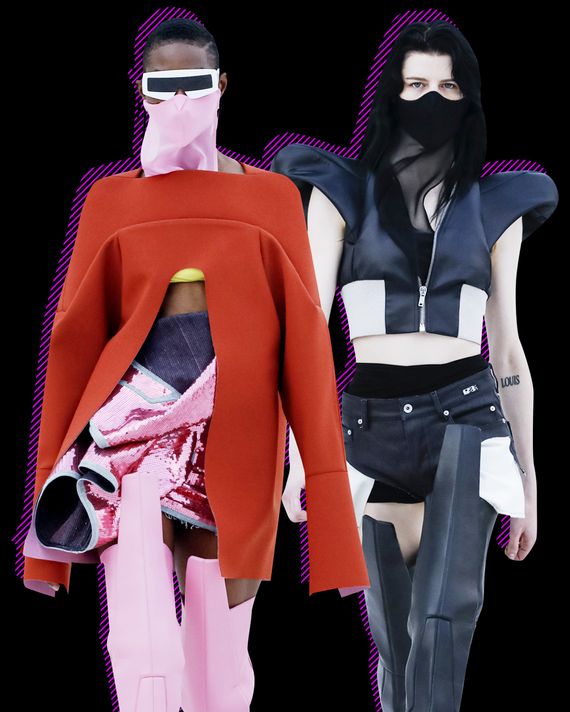 In mid-June, when I spoke to Rick Owens for "The Lost Season," he had just arrived on the Venice Lido after more than two months holed up in Paris. He has an apartment on the Lido; it offers a famous beach for the perennially bronze Owens, and it's convenient to his Italian factories and workrooms. And there is a nice symmetry with the fact that Luchino Visconti shot much of Death in Venice (1971) down the road, at the Hotel des Bains. Owens has a taste for melancholia.
For all those reasons, it must have been thrilling for him to stage his spring collection on the piazza in front of the Lido Casino. He didn't have a live audience; it was just Owens, some masked models, and his Italian staff. But the separation from Paris and the grimness of a near-empty Fashion Week actually worked in his favor. What designer hasn't dreamed of skipping the whole circus and doing his own thing in a place he loves — and with the sea sparkle and gloom of Venice? As Owens said, "It feels cozy and truthful and spectacular at once."
He called the collection "Phlegethon," after a river in Dante's Divine Comedy — as Owens put it cheekily, "not quite the center of hell but on the way there." Given the relentless onslaught of bad news this year, we might suspect we're already in hell. But bear in mind: Donna Summer's "I Feel Love" was on the soundtrack. And there were wafts of cotton-candy pink in the collection. How crummy can you feel?
That's just it: Owens is too savvy and optimistic to serve up a commercial version of Der Tod in Venedig. In June, when we were discussing what kinds of fashion might emerge from this period, he brought up the example of Christian Dior's New Look as a response to fabric shortages and austerity during World War II. He didn't see a connection with the present, but he did point out that a feature of the New Look was wit and bravado. He said, "Any real chic has always had a sense of humor. Almost a touch of camp."
For me, these clothes had all that. Among the dynamic looks were microshorts — practically underpants — done in dark denim, leather, or black sequins, with the cotton pockets flapping out; slithery rib-knit summer tunics in pink or white worn over shorts and a bandeau top and shown with monster platforms; and a fabulous raw-edged and sleeveless masculine overcoat with basting stitches on a pavé of shimmery black sequins. Microshorts have been around as a street style, but the novelty here is the cut and the blending of a classically feminine waist — shades of the New Look? — and the absurdly broad shoulders of a model's cropped men's jacket, creating a modern hourglass silhouette. Owens had a similar shoulder line in his fall 2020 show. He was right to repeat it.
In the same vein were structured popover tops that seemed a hybrid of tunic and capelet with the front sliced open. They came in black and a deep rust hue, and one revealed a black sequin miniskirt that looked like a cross between a 19th-century bustle and a shirt tied grunge-style at the hips. It was enough defiant sass to make you laugh.