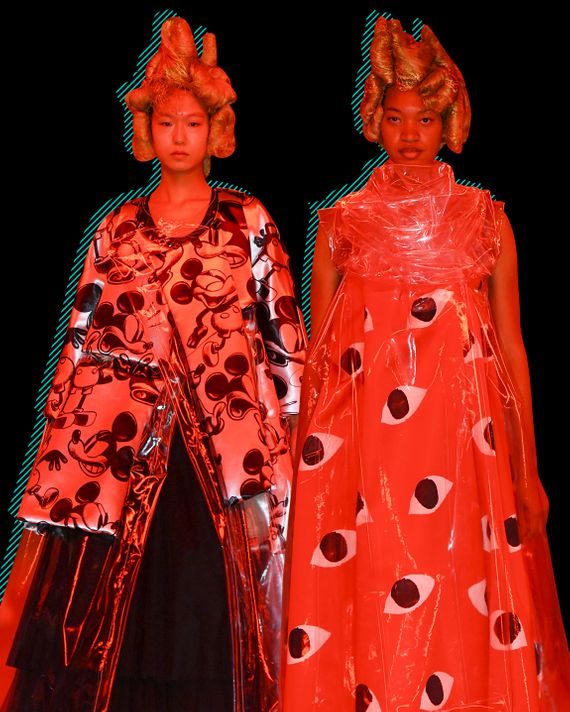 Almost four years ago, Rei Kawakubo opened her Comme des Garçons women's show with a pair of large and armless forms made of layers of white wadding. I'm sure I wasn't the only person in the room that day, in Paris, who found this very funny. Kawakubo had abstracted the female body as it has been represented in both classical sculpture and, closer to home, the Stockman dress form used by designers. She had given her "bodies" a wonkier figure and they were displayed on two models. The rest of the show continued in that wonderful and weird vein. Nothing really looked like clothes.
And they wouldn't again until this week, when Kawakubo presented her spring 2021 collection in her offices in Tokyo. That's a long time for a serious designer to confine her expression to abstract objects, and I often wondered if Kawakubo was expressing the difficulty of creativity itself. Had she hit a wall? Was she saying with these inarticulate-looking blobs of brocade and lace that she had nothing left to say? But anger has long been the starch in her fashion, since the '70s. By not making clothes as such, was she venting her frustration at women? In an interview this summer, for The Lost Season, she told me she wished that more women would wear clothes that were visually strong. In a word, challenging.
The timing of her return to wearable clothing (at least by Comme's standards) is significant, I think. Of all designers, Kawakubo is the one most likely to anticipate that the pandemic would lead to attractive, feel-good clothes for women. And, by and large, that's what happened this season, from Prada and Hermès to Michael Kors and Christopher John Rogers.
Kawakubo's clothes were also uplifting but for reasons all their own. First, she adapted classic couture silhouettes — the trapeze, the balloon, the '50s party skirt. Second, she used traditional fabrics like chiffon and satin as well vinyl, both solid and transparent. And third, she created large-scale prints of Mickey Mouse and Be@rbrick, a Japanese toy bear. The dresses done in a print usually featured some graffiti at the hems.
None of these elements is new. But it was the combined effect, and in the context of a season that kept stressing the same images of women, that made them different. I don't know if this will go down as one of Kawakubo's greatest collections — I happen to think it is — but it will certainly be unpacked by costume historians and critics for years to come. You have, on the one hand, these beguiling couture silhouettes, which Kawakubo often treated in a relatively straightforward way — for example, a black full-skirted dress, with a strip of black vinyl at the bodice and tight, gathered-up sleeves. And, on the other, you have pop-cultural references as well as an attitude that's ironic and aggressive — the most aggressive this season. Mickey's repeated image in the print isn't only sweet; it's also manic. Looped around the top of a shimmery black evening slip was a sausage-linked roll of white fabric. It made me think of a balloon dog.
And though many of the clothes would look amazing on a red carpet, they also seemed to quietly mock a fashion world driven by celebrity.
By the way, Kawakubo's theme for the collection was dissonance. But, for me, she didn't just strike that note with her own bracing designs. She struck it across the whole industry, almost as a challenge.