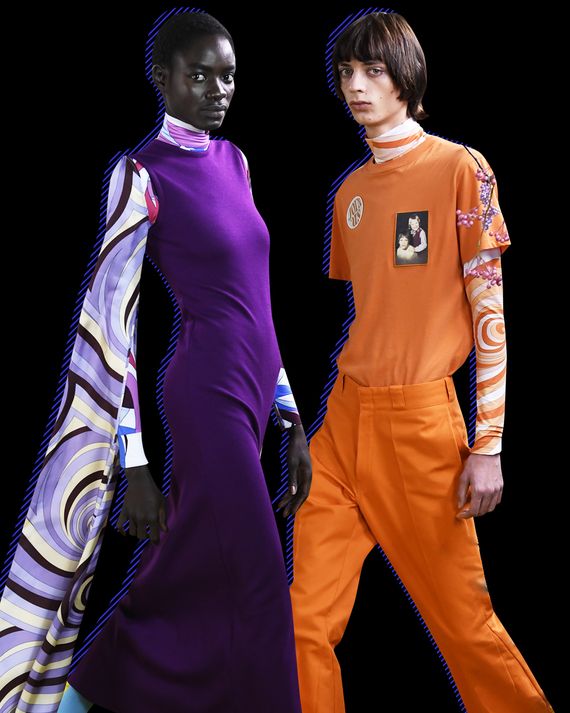 Photo: Courtesy of Raf Simons
Considering that most of us have been at home, it was rather striking that Raf Simons opened his spring 2021 collection with a bright-aqua turtleneck top bearing the message "Welcome Home." Was he kidding? Where else would we be? But, alas, Simons didn't mean just anyone. The rest of the message said, "Children of the Revolution."
Oh, them.
Home is Antwerp, where he's lived all of his career. Home is young guys and girls. Home in the largest sense is the people (and the pets) you love. It's community, as a white hoodie declared in large black type, below the smaller words Free City Flowers. Another clue: Simons loves arranging cut flowers. The set for the digital show — released today — appeared to be carpeted in sphagnum moss, and there was a glade of flowering trees along with various nets. I couldn't decide if the set was meant to evoke a magical garden or an aquarium in Las Vegas. Maybe a bit of both. Occasionally, the perspective was closer to Honey, I Shrunk the Kids. At times, the models were crawling on all fours through the yellow, mossy fluff.
Some people are calling this Simons's womenswear debut, but it's more accurate to say this was his first men's and women's collection in a while. I say a while because in the early days of his career, in the mid-1990s, I seem to recall one or two collections where a few women's looks were mixed in with the men's, in particular a wonderful show video he did called 16, 17, How to Talk to Your Teen. And obviously Simons has done women's clothes for Jil Sander, Dior, Calvin Klein, and now for Prada.
But to return to the theme of home, because it is finally what matters: I think that in the context of high fashion — the stuff we've been looking at for the past six weeks — it means something less structured and defined by big brand values. It means doing things your own way. Not innocent exactly — what's innocent in the fashion business? — but certainly something that strives to be apart. To be sure, Simons is very much a force in the luxury business, but there's still a side of him that seems to question it, and his own brand is the place where he can express that.
The collection works on several levels. The colors are phenomenal. I thought I had fallen into an electric dahlia patch. The rose pink, deep red, ice-cream swirls of purple and lavender, yellow, orange, the weird shade of slime green. Simons repeated things his brand is known for, like oversize sweaters, ski-style turtlenecks, and patches on clothing with a message or a photo (this time, school-yearbook portraits), but while the overall look is casual and eclectic, it is hardly streetwear in the common sense. Among the better looks were ankle-length, hooded capes in swirly post-Pucci prints and elongated men's vests, probably plucked from the wardrobe of an 18th-century Dutchman, or maybe from one of the Antwerp Six designers of the late 1980s. It looked cool, if familiar. I also liked, again in the context of a season of many drowning volumes, the skinny silhouette for women.
All in all, the collection felt quite niche — which is probably how Simons wants it — and the women's clothes seemed a completely fluid extension of the men's, making for a subdued and confident "debut."