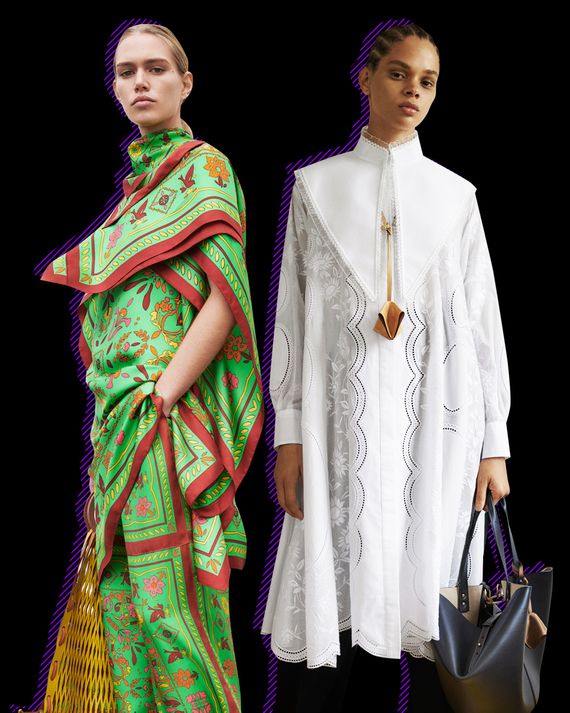 Photo: Courtesy of Tory Burch
If someone told you that a designer's collection was inspired by the Shakers, together with memories of Mom and Dad in their summer duds, would you be interested? The Shakers made wonderfully plain furniture, but they practiced celibacy. Just think of the general drift of the spring 2021 shows? Do we really need any more tent dresses and roomy coats? Crazy or divine, parental fashion can only mean one thing: nostalgia.
The designer in question is Tory Burch, whose parents, Buddy and Reva Robinson, have given her plenty of source material. Only two years ago, Burch did a show around the clothes they wore when they would leave the family farm in Pennsylvania and take their summer trips to Europe. And just as she did in that collection, Burch features caftans and soft, striped pantsuits in the new one she presented on Thursday, via Zoom. Pennsylvania-Dutch quilts, Shaker collars, folk art, and straw baskets are among her references. I received a cocktail napkin–size bundle of swatches, along with a jar of honey and two beeswax candles, in a wooden Shaker box.
Actually, the collection worked without the Shaker symbolism. It didn't mar it but it didn't matter also. What's relevant is that the designs look more intentional, more considered, with (probably) bang for the buck than they have in some time. Burch says that since her husband, Pierre-Yves Roussel, a former senior executive at LVMH, became chief executive of her brand, in 2018, she's been able to focus all her attention on design and merchandising. The time during the lockdown helped, too.
In the past, her collections often seemed overloaded with styles that did little to define or push her aesthetic. This time, she homed in on a few key Tory ideas — the casual clash of patterns (a pantsuit in two different checks, with a sweater vest in another pattern), American-style elegance (a plain coat in a soft gray-brown menswear check with piping and wide sleeves, and worn with dark, ankle-gathered pants and sandals), and uncomplicated but pretty dresses (caftans, fine cotton grannies, and a slim, backless apron-style that — I guess — takes Shaker simplicity to a sexy extreme). A long dress in layers of white cotton voile piped in black, with an exaggerated collar, would make a lovely offbeat wedding outfit.
"I'm so proud of this collection," Burch said. "I feel like I need that focus." She has tended to give her collections an overarching theme or story, maybe as a crutch. But in truth she doesn't need it. She reminds me a little of Margaret Howell, the great, self-confident British designer who has an exceptional handle on classics. They look good every time. If Burch can hold the focus, and keep eliminating while raising the quality of her fabrics and details, she might well find that extra gear. And surprise us, too.
This week, the shows end (really!) with several all-stars: Rei Kawakubo of Comme des Garçons, Junya Watanabe (both are presenting from Tokyo), and Raf Simons.