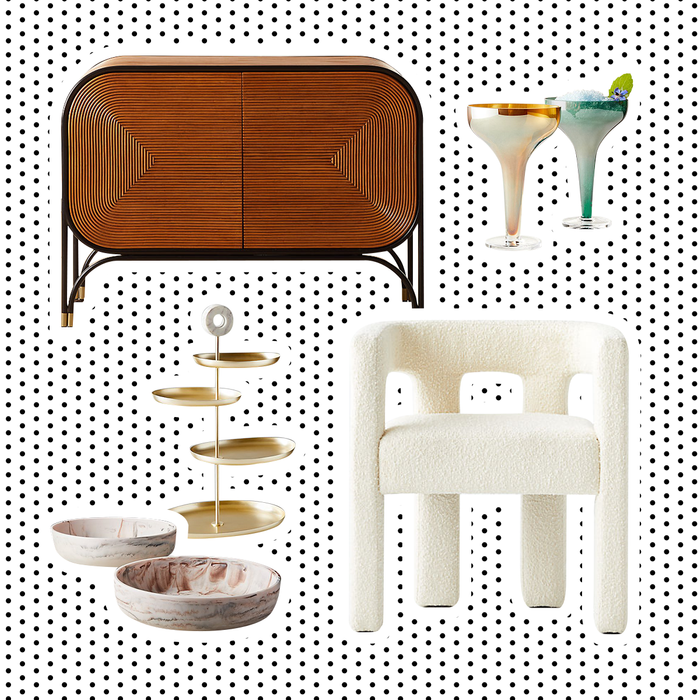 This year, "home for the holidays" is taking on a whole new meaning. Without company cocktail parties and trips to the in-laws to fill our schedules, we're finding ways to be festive on our own terms: trading raucous buffets for intimate dinners, decking the halls (or at least our houseplants) with string lights and garlands, and dressing up in our sparkliest attire — and our fluffiest slippers — for a night in.
Sierra Tishgart, co-founder and CEO of the colorful cookware brand Great Jones, plans to celebrate the holidays at her apartment in New York City — and she's bringing the best parts of the season home with CB2. With cozy gatherings, home-cooked meals, and more to look forward to, she's making sure her space matches the festive mood of the season. Shop her top picks below.
"Boucle is great because, shockingly, it is very hard to get dirty. That means even my dog Hubble can treat this chair like his throne."
"I currently throw all my keys, masks, scarves, and who knows what else on a kitchen island, and it looks messy. This is a chic way of fixing that problem."
"An ideal tool for when dinner is just a bunch of snacks!"
"This is an emotional support blanket, and I intend to take it everywhere."
"My husband and I are celebrating our first Hanukkah this year without family, and this will make it special. I'll probably keep this on my mantle all year round!"
"This is the perfect vessel for eating dinner on your sofa with the aforementioned emotional support blanket — my preference most nights, now that my dining table is my desk."
"I am not a 'game person,' but I would make an exception for this chic one."
"I love the contrast between an ornate printed plate and a humble, rustic dessert like a slice of apple pie."
"I will enjoy pretending these glasses are my best-ever vintage-shop score."
This advertising content was produced in collaboration between Vox Creative and our sponsor, without involvement from Vox Media editorial staff.