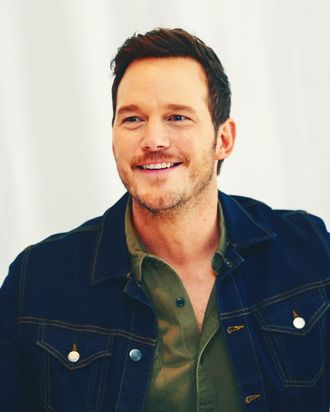 Photo: Magnus Sundholm/Shutterstock
For many years, through blogs and social media and untold Marvel movies I have not seen, a totally fine debate has simmered over who is Hollywood's best Chris, and who is the worst. The gauntlet boiled down to four main Chrises, united in their whiteness, tallness, handsomeness, and Chris-ness, but otherwise, I am told, quite different. They are Chrises Hemsworth, Pine, Evans, and Pratt. It was all good fun pretty much until this week, when a Twitter meme proclaiming Pratt the worst Chris began circulating, and some meddling celebrities took it upon themselves to come to his defense, thus exposing themselves as quite unchill.
The meme was resurrected over the weekend, when filmmaker Amy Berg tweeted pictures of the four Chrises using the popular meme format "One has to go." A lot of people in the replies picked Pratt, notorious among the Chrises for his reticence about discussing politics (leading many to believe he might be a Republican, although he has donated to a few Democratic campaigns) and his membership at a church accused of anti-LGBTQ sympathies.
Adding fuel to the fire, a few days later, it was reported that a group of Marvel stars were attending a fundraiser for Joe Biden's presidential campaign, but that Pratt wouldn't be there, generating more speculation about Pratt's political views. (It's not known why Pratt's name wasn't on the list of stars who will attend, or whether he was even invited.) And earlier this month, Pratt wrote an Instagram post urging fans to "vote" for his new Pixar movie Onward, a joke that was widely lambasted on social media.
Then — then! — several celebrity friends of Pratt and his wife, Katherine Schwarzenegger (daughter of the famed former Republican governor of California), stepped in to defend Worst Chris's honor. The first to weigh in was Mark Ruffalo, who tweeted on Tuesday that Pratt is a man he knows personally and is "just not overly political as a rule." Furthermore, talk of Pratt being the worst Chris is "a distraction" — from what exactly? The election? Death?
Next up was Robert Downey Jr. with an unhinged rant on Instagram where he wrote, "The 'sinless' are casting stones at my #brother, Chris Pratt … A real #Christian who lives by #principle" and who happened to marry "into a family that makes space for civil discourse." He encouraged those who "take issue with Chris" to delete their social-media accounts and "sit with your OWN defects."
Katherine Schwarzenegger chimed in on Tuesday, responding to an E! News Instagram post asking "Which Hollywood Chris is the best?" with "Is this really what we need? There's so much going on in the world and people struggling in so many ways. Being mean is so yesterday."
James Gunn, who directed Pratt in Guardians of the Galaxy, also joined in the sanctimonious backslapping, writing that Pratt is "the best dude in the world."
And Zoe Saldana quoted Tupac in defense of Chris Pratt.
Chris Pine is the best Chris.