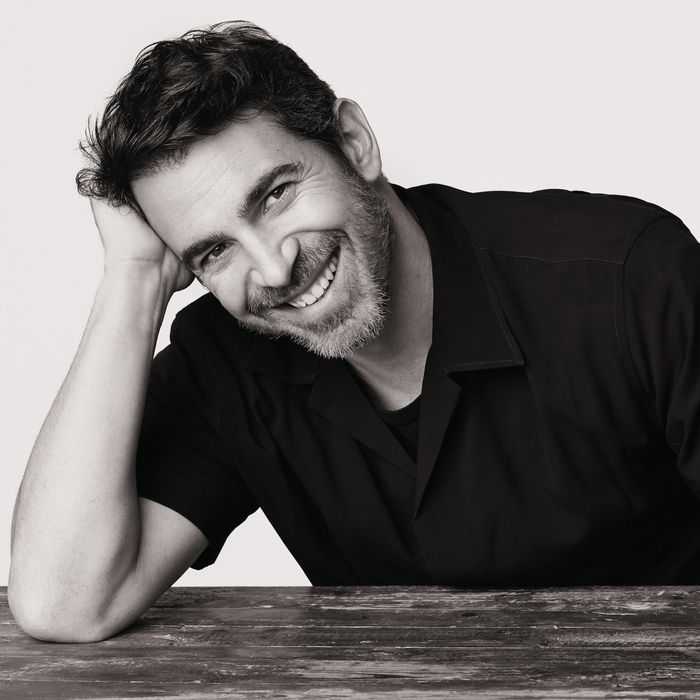 Photo: Sam Jones / Trunk Archive
This past weekend, the internet performed its quarterly ritual of debating the Chris List. The discourse (chriscourse?) was reprised when writer Amy Berg posted a photo of four almost-identical white men named Chris (Pine, Evans, Pratt, and Hemsworth, together known as "the Chrises") with the caption "one has to go." The people of Twitter then hemmed and hawed over the men, ranking them on the crucial qualities of hotness, talent, and personality, in that order. As usual, Evans was named the Chris du jour, while Pratt fell dead last.
This latest Chris debate happened several days after I'd spoken with another famous Chris, a Chris whose hotness, talent, and personality have been on display since he began making a name for himself in aughts Hollywood. He's a Chris that can jump from playing a nepotism prick like Reese Lansing in The Newsroom, to a charming gynecologist on The Mindy Project, and then a maniacal serial killer in Birds of Prey. He's a Chris who performs with a raw, erotic verve, rather than simply cruising on his good looks. He is a Chris with range, one that this magazine has formally proposed to replace Pratt for good. He is, of course, Chris motherfucking Messina.
And today he's on my computer screen for a video call. His aesthetic is very quarantine: plain blue T-shirt, stubble, scruffy black hair, and a let's-get-this-over-with expression. It's a turn from where I'd just been watching him as Lewis, the polished, bespectacled doctor in The Secrets We Keep, out on digital this month. The film takes place in post-World War II America, and follows Lewis and his wife, Maya (Noomi Rapace), who kidnaps a man she suspects committed war crimes against her years before.
Messina is resplendent in it, holding his ground against the force that is Rapace. He says she's the reason he did the movie: "She's a badass, on and offscreen. It was like being in a title fight with her every day: I had to keep my hands up and bob and weave." In fact, he says he frequently picks projects because of the other talent: He took Birds of Prey to get time with Margot Robbie, and recently did a movie, I Care a Lot, because it meant a 12-page scene with Rosamund Pike, who "is just extraordinary." (He did tell Forbes in 2017 that he simply loves working with women.)
What's more, he's still trying to shed the "nice guy" reputation bestowed on him by his early Hollywood roles — a Nora Ephron movie husband, or Claire's tender Republican boyfriend in Six Feet Under. He's hungry for darker material, a process that started in 2015 when he packed 40 pounds on to his five-foot-nine frame to play Ben Affleck's henchman in the gangster flick Live by Night. But "the darkness has always been there," he says, and notes that when he started acting in Off Broadway plays, he always played the addicts, club kids, and cult leaders. He admits that in addition to the sweetness of the nice guys that made him famous, he's got "a lot of anarchy and anger" in him — he just needs a place to put it.
Messina was born and raised in Long Island, and says that growing up he only ever wanted to be two things: an actor or dancer. He competed for Mr. Dance of the United States and his hero is still Mikhail Baryshnikov, the legendary Russian-American ballet dancer — "it was kind of like Billy Elliot meets the Karate Kid, people didn't quite understand it," he says of his past life. He'll still take a ballet class now and then, and when he sees a dance show on TV he'll stop to watch it. "I love watching dancers," he says with a smile. "You can tell so much about a person by the way they move. It's such a vulnerable mode of expression."
Vulnerability is something that Messina is interested in. In fact, many of his roles have seen him as one half of a tumultuous relationship: He loves a meaty, complicated love story, like the cheating husband in Monogamy (2010) or the perverted drama teacher in Blame (2017). When I point this out to him he lights up, saying he's always loved kitchen-sink dramas, naming Scenes From a Marriage, Kramer vs. Kramer, and more recently Marriage Story. "The small, big moments in people's lives" and "characters dealing with turmoil of everyday life" is what made him want to act.
I wonder if this fascination with vulnerability and what he calls "the complications of relationships" is what has lead him to so many roles that involve sex, and, more specifically, full-frontal nudity. Consider his infamous striptease in The Mindy Project, or his nude scenes in Digging for Fire or 28 Hotel Rooms. We even see his butt in The Secrets We Keep, which is otherwise a very sober thriller. I thought he would brush the question off, but nudity, it turns out, is kind of his thing.
"I've always found that [nudity] made me feel very powerful," he muses. "You're saying: This is me. This is the bad shit. I'm not in good shape. This is the hair on my chest. Forgive me, that sounds so fucking actorly, but there's something about nudity that just gets right to the point."
It's also in his wheelhouse. He goes on to describe an early acting experience in which he had to masturbate to completion (with his back to the audience) in a play. He usually mimed the action, but the day his parents came to watch he decided to go for the real thing: "I remember thinking, You're not a real actor. I could end this now and put them at ease, or I could be a real fucking actor and keep going." So this time, he really went for it — as in he really jacked off — but in his determination to prove himself he got stressed, and just ended up making the scene much too long. Luckily, his parents didn't bring it up afterward. "They were just like, 'Where do you wanna go, wanna get something to eat?'"
Given this sublime anecdote, I nearly forget to ask his thoughts, as another famous Chris, on the Chris List. Does he want to be on it? Is he aware that he's frequently nominated as a Pratt replacement? He's not on social media … has he even heard of it?
"Yes. And I think there's only really one Chris," he says, his Long Island accent suddenly stronger to the ear.
"And that's Christopher Walken."