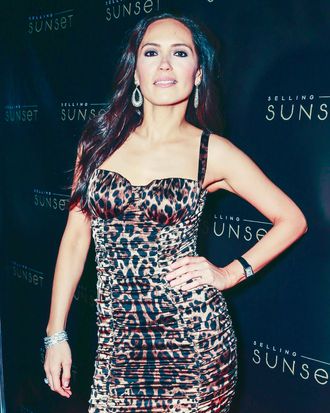 Photo: Rochelle Brodin/Getty Images for OPPENHEIM GROUP
Queue dramatic exit music: Davina Potratz, one of the more villainous cast members on Netflix's Selling Sunset (and that's saying a lot), is taking her high heels elsewhere. On Thursday, she announced that she will be leaving the Oppenheim Group for a rival real-estate firm: Douglas Elliman in Beverly Hills. You can't script this kind of betrayal! Well, actually, you can.
"I'm really excited to be a part of Douglas Elliman and their very sophisticated and global new development division," Davina told People. According to the publication, the brokerage "presented her with an offer that she couldn't refuse."
Last time we checked in with Davina, she was doing her usual dirty work, stirring up shit at her co-worker's wedding with a chillingly deadpan shrug. She was also having trouble selling a $75 million listing, which was creating some tension in the office. (That reminds us: Did she ever sell a listing on the show?)
Apparently, there's "no bad blood" between Davina and her now ex-boss, Jason Oppenheim. "Davina has always been a tremendous asset and a valued agent at the Oppenheim Group, and she is also a friend whose career decisions I very much respect and support," Jason told People in a statement. "I will always want the best for Davina, and I hope that we continue to work together in the future." (Jason's identical twin brother, Brett, also left the family business this year. Et tu, Brute?)
As far as Davina's future on Selling Sunset, she says she "certainly hope[s] that [she's] still part of the cast," but Netflix has yet to weigh in. She's also said that she thinks her former colleagues will be "excited and supportive" regarding her departure.