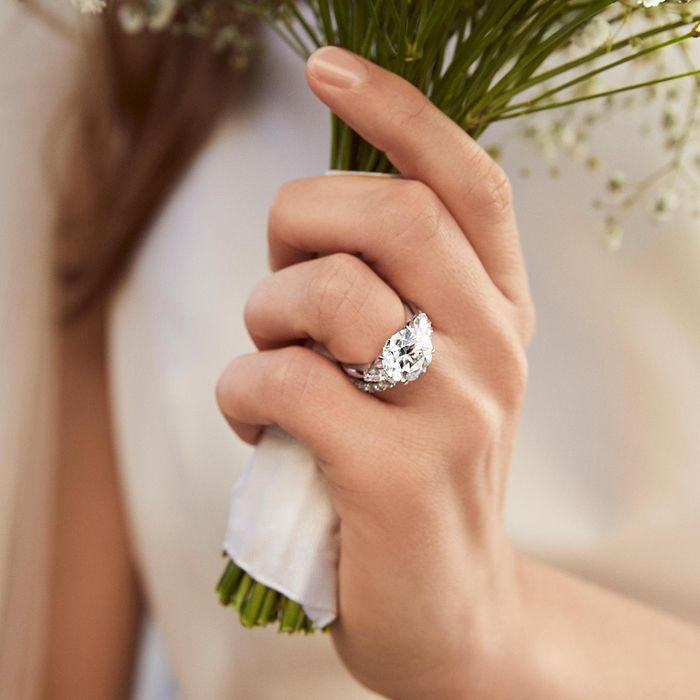 This year, we've all seen heartwarming stories of nontraditional engagements, proposals, and weddings across the globe, proving that true love will continue to uplift and inspire even during uncertain times. Although many plans for romantic public proposals and destination weddings may have been changed in favor of more intimate, private celebrations at or near home, finding the perfect engagement ring should still feel like the precious milestone that it is.
Choosing a ring for yourself or your loved one can be daunting, even under typical circumstances. So for guidance, we turned to Anne-Eva Geffroy, design director at the luxury jewelry house Graff. The family-owned, London-based jeweler is known worldwide for its expertise in crafting unique bridal settings and selecting exquisite stones, and a member of the Graff family oversees every step of a diamond's journey — from sourcing, cutting, and polishing to the final setting of each ring. (Plus, Graff is now offering virtual or in-store appointments; call your nearest store to set up the one that feels right for you.)
To help with the process of selecting "the ring," Geffroy named seven common archetypes that the would-be wearer might fall into. "The setting and the shape of your diamond can dramatically alter the overall look of your ring," Geffroy advises, "and it is important to think about both when choosing a ring that will come to symbolize your love story for decades to come." Here's her advice on finding that perfect symbol.
The Classicist
Someone seeking the quintessential engagement ring might prefer more traditional styles, says Geffroy, like Graff's Legacy and Paragon settings paired with an oval diamond. The Legacy setting features a parted diamond pavé band, while the Paragon's slender band is even more elegantly simple. And while all engagement rings are created to stand the test of time, these styles are especially classic in nature: perfect for the person who knows their taste and sticks to it.
The Romantic
A hopeless romantic who dreams of their fairytale happily ever after — meaning, the person who's been envisioning their ideal wedding since age 5 — will love the sweetness of Graff's heart-shaped or pink diamonds, Geffroy says. The setting is up to you, but Geffroy loves to pair heart-shaped stones with the Paragon setting. "For me, its feminine curves need no further embellishment," she notes.
The Aesthete
For the would-be wearer who's always visiting an art exhibition and who's known for their attention to detail, Geffroy recommends Graff's exquisite D Flawless diamonds. These jewels have the highest color and clarity grade — two of the "4Cs" guidelines used to determine a diamond's quality. With a D Flawless diamond, the center stone you'll choose will give the ring its story, and the time you spent selecting it won't go unnoticed.
The Brilliance Seeker
Looking for a ring that amps up the sparkle? Geffroy suggests some extra glamour, courtesy of round brilliant diamonds set on Graff's Icon, Constellation, Flame, or Legacy settings. All four feature a pavé band surrounding the central stone, creating more brilliance. Think of these designs for someone who wants to be noticed and who's always styled impeccably.
The Minimalist
For the person who likes everything sleek and streamlined, Geffroy recommends Graff's Promise, Paragon, or Laurence Graff Signature settings. While the Promise and Paragon settings are both classics, the Signature is a modern design with a unique, faceted band. Geffroy says it's "perfect for those seeking a striking, contemporary design but who want something more understated for everyday wear."
The Lover of Color
There's no rule that says all engagement rings have to feature classic white diamonds. And that's where a yellow diamond (a specialty of the house) or Graff's selection of exceptional colored stone rings can prove to be beautiful options. "Some of our most extraordinary engagement rings showcase rare-colored diamonds," Geffroy says, adding that she especially loves the look of an exceptional ruby or sapphire, surrounded by pure white diamonds in the Promise setting.
The Upgrader
Many couples choose to update an engagement ring or wedding band over time, in celebration of a milestone anniversary or simply for a style refresh. For those enhancements, Geffroy recommends integrating a larger center stone or upgrading a standard band to Graff's Flame setting, which adds more brilliance with a pink- or white-diamond band. "Celebrating a couple's ongoing commitment with a beautiful new jewel is the ultimate romantic gesture," says Geffroy.
Whether you prefer a contemporary or classic setting, a traditional round or pear-shaped diamond, or something entirely of your own creation, ultimately, the ring that you're drawn to is the right ring for you. In fact, Geffroy adds, you might even be surprised where the search leads you. "Whilst our individual tastes and styles often draw us to one setting over another," she says, "it is often the case that the perfect ring finds you."
This advertising content was produced in collaboration between Vox Creative and our sponsor, without involvement from Vox Media editorial staff.