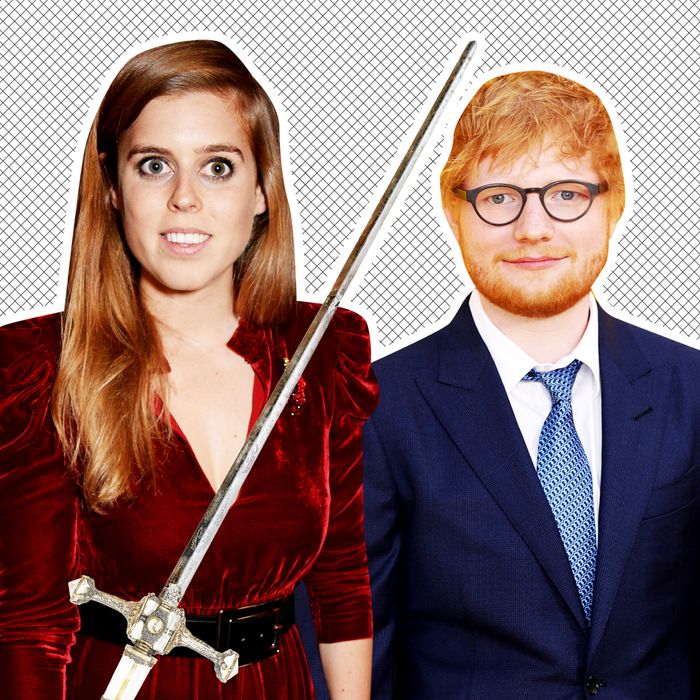 It was Beatrice, at the Royal Lodge, with the ceremonial sword! Allegedly!
Photo: Getty Images
Those zany British royals, always cooking up drama proportionate to their station (high, niche), bless them. For the past year or so, it's certainly been dramatic, but also relatively par for the course: rumored interfamily feuds, shocking decisions to "step back" from royal duties, lingering questions over what's really going on with the Marchioness (?) of Cholmondeley (??). This week, though, a truly unexpected and spectacular rumor resurfaced: One time, a sword-wielding princess reportedly pretended to knight "You're Beautiful" singer James Blunt, but instead sliced Ed Sheeran across the face — and never spoke to him again.
A sentence that keeps on giving, I know.
This regal legend has taken a number of twists and turns over the years, which Jezebel has graciously mapped out. The gossip originally came from the Sun, which in 2016 reported that Sheeran and his good buddy Blunt attended a "do" Princess Beatrice threw at the Royal Lodge Windsor. Everybody was apparently having a nice time until Blunt started talking about how much he "would love a knighthood," per the tabloid's sources, so Beatrice ran off "and fetched a ceremonial sword." James then got down on one knee, and according to the Sun's source, the rest is history:
Beatrice, who was in great form, held the sword above him and said 'arise Sir James', just like her nan would at the Palace. But she must have misjudged the weight or something and, instead of lightly tapping him on the shoulder, she swung it back, not knowing Ed was standing right behind her. The blade cut into his face and it was just a few inches from his right eye.
Beatrice was reportedly "inconsolable," but Sheeran assured her it was just an accident and went to get his cheek stitched up at a local hospital. Neither his people nor the royal family's commented on the Sun's report, and the following year, Blunt said in an interview that the whole thing was a "fancy story" made up to cover a drunken bumble. (What a friend!) But now, a manager for both Sheeran AND Blunt has waded into the fray.
In an interview with the Telegraph, Stuart Camp — who currently manages Sheeran and used to manage Blunt — clarified that, yes, someone did chop his client in the face with a wall-mounted weapon. "We've never publicly commented on it," Camp said, per Jezebel. "But certain people said, 'Oh, you should lie and say it wasn't her and say it was someone else.' I said, well, we're not telling anyone anything. I'm not lying, just because someone's a fucking idiot. Because they're thinking, yeah, I will get paralytic and take a sword off the wall. You're just asking for trouble."
But the best part? According to Camp, "We've not heard hide nor hair from her since."