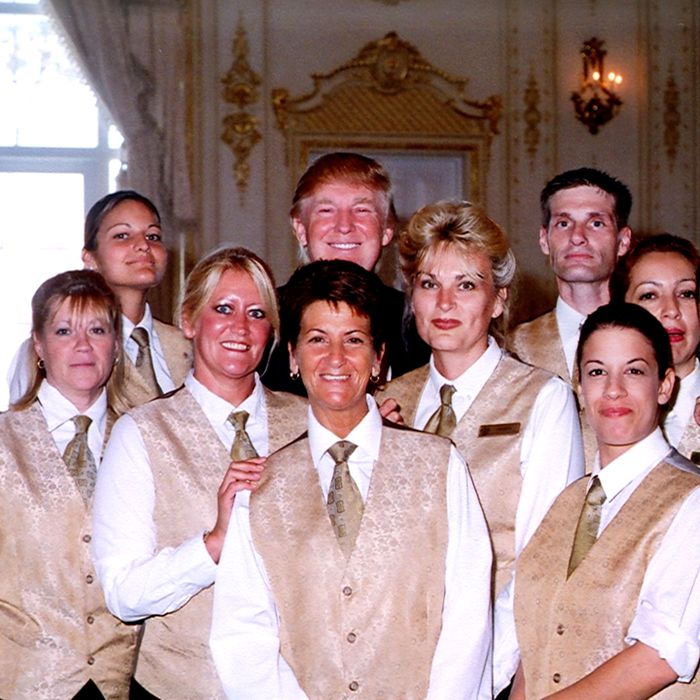 Photo: Davidoff Studios Photography/Getty Images
Sandra Diaz was horrified when she saw COVID-infected Donald Trump walk into the White House without a mask last week. He had just returned from the hospital, almost certainly still a risk to others, in order to stage a kind of promotional video on the White House balcony. From her home in New Jersey, Diaz watched as Trump removed his face mask and gave a salute in front of the cameras, appearing to wince and struggle with his breathing. Then he offered a thumbs-up, turned, and walked inside.
She wasn't thinking about the prominent Trump associates, now more than a dozen, who had tested positive for the coronavirus in the aftermath of Amy Coney Barrett's largely maskless, semi-indoor Supreme Court nomination ceremony on September 26. Diaz, a former Trump housekeeper at his Bedminster golf resort, was terrified for others at risk in the White House: the hundred or so anonymous, unseen members of the Executive Residence staff who cook, clean, and prepare for the dinners and meet and greets where COVID-19 had likely been spreading. Reports had come out only hours earlier that two White House housekeepers had been diagnosed with the coronavirus. Diaz believes that when Trump walked into his home without a mask, "he didn't even think about" the staff members inside. "He doesn't think about who washes his clothes," she says.
Diaz, a native Costa Rican, worked at Bedminster from 2010 to 2014, cleaning Donald and Ivanka Trump's homes on the property. She says the president, as an employer, was obsessive about his own cleanliness and hygiene. He would run his finger along surfaces to check for dust. He was "terrified of flies." Diaz wore shoe coverings, latex gloves, and no makeup or perfume so that her presence would not be perceivable in the house. Meanwhile, her own working conditions were precarious, she says: She remembers touching something in a guest's room at Bedminster that made the skin on her hands burn; when she told her supervisor she wanted to go to the hospital, she was told she would have to pay for it herself, due to her undocumented status. She had no benefits. "The housekeeper has to do everything close to" Trump, Diaz says from experience. "I'm really scared because he doesn't care."
The workers in the Executive Residence were reportedly wearing full personal protective equipment — yellow gowns, surgical masks, and disposable protective eye covers — when their boss came home. To imagine this scene is to visualize a contrast so clearly unjust it seems almost heavy-handed: There is Trump, unadorned, openly flouting nearly every protocol for the infected and then there are the people who clean up after him, shielded head to toe, who all the available science says would be significantly safer if their employer would simply wear a face covering. It's a heightened version of the reality faced by American workers across the country, forced to wear their risk on their own bodies next to those who get to remain in relative comfort: servers clad in face shields and gloves approaching tables of PPE-free restaurantgoers eating and drinking in the open air; meat-packers and Amazon warehouse workers complaining of unsafe conditions while shipping food and products to customers who didn't even have to go outside to order them. Americans have been living in two worlds for the past seven months; Trump has refused to acknowledge this reality, braying about reopening churches and schools and insisting the virus will just "go away." He kept doing so even as those worlds were laid bare in the White House itself, as he dragged himself home from his own hospital stay to housekeepers dressed like ER doctors.
Trump's maskless stunt days after his COVID diagnosis were appalling and reckless. They're also the apotheosis of a long, very public history of racist, sexist contempt for domestic workers, on whose labor he built his famous name. As owner of the Miss Universe competition, he once mockingly referred to Alicia Machado as "Miss Housekeeping," solely because she was the contestant from Venezuela. Housekeepers, cooks, gardeners, and janitorial staff formed the backbone of his hospitality business in an industry that draws heavily from a labor force of immigrants. Trump's own clubs employed dozens of undocumented people while he maligned them as rapists and criminals throughout his 2016 campaign, inciting his followers to chant about keeping them out of the country.
As president, his contempt and lack of concern for these communities has had disastrous policy effects. Domestic workers were already among some of the most vulnerable people in the country, and now they are on the brink of a humanitarian crisis: More than 70 percent lost their jobs in April. With Trump's horrific mismanagement of the virus, and no federal stimulus in sight, many are facing eviction, poverty, and hunger.
A statement from the First Lady's office last week said, "The health of Residence staff members and their families are a paramount concern to the First Family." It noted that staff would be wearing masks but said nothing about whether the First Family would be wearing them in turn. This belated show of concern comes after reports discovered that four residence staffers had tested positive for the coronavirus three weeks ago: three housekeepers — not two, as was first reported — and an assistant to the chief usher. After their diagnoses, they were reportedly urged to "use discretion" about their illnesses.
Diaz says it was painful to see Trump tell Americans, "Don't let it dominate you," regarding the pandemic that has killed over 200,000 people, including two fathers of boys Diaz's son plays soccer with. "It's not a joke," she says. "Poor people know. Rich people don't think about how hard it is to decide, Is it your life? Or do you have to work and put food on your table?"