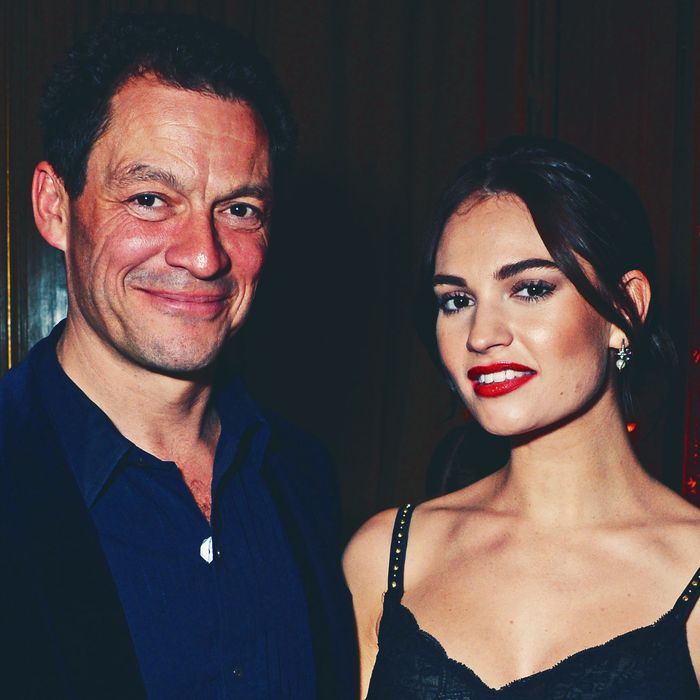 Photo: David M. Benett/Dave Benett/Getty Images for Hararper's Bazaar/Hearst UK
This alleged celebrity affair has a DIY vibe I'm kinda into.
What began with your typical unfaithful kissing spree in a famed European city ended in a handwritten note seemingly penned by the adulterer himself. This story begins over the weekend, when tabloids reported that actor Lily James, 31, was seen "passionately kissing" actor Dominic West, 50, at an outdoor dining spot in Rome.
The two are co-stars on a forthcoming adaptation of Nancy Mitford's novel The Pursuit of Love for the BBC. West, known fo his starring role on The Affair, has been married since 2010 to Catherine Fitzgerald, with whom he has four children, but was photographed embracing James without his wedding ring on, prompting much speculation. (Lily James was rumored to have been dating Chris Evans over the summer. On Thursday, tabloids reported she had broken up again with The Crown star Matt Smith, who she's been with intermittently for the past five years.)
The Daily Mail reports that, by Monday, Fitzgerald was "heartbroken, shocked, and devastated" upon seeing the tabloid images of her husband and James. Reportedly, Fitzgerald told a friend that "she believed their marriage was strong and had been blindsided by the pictures."
On Tuesday, West was back at home with his wife in Wiltshire, where the couple chaotically posed for photographers with their wedding rings either not on or hidden in their pockets. West wore an expression of discomfiting bad boy horniness and the same outfit he'd had on when making out with James. Following this display, the couple handed paparazzi a piece of paper with a handwritten note that read, "Our marriage is strong and we're very much still together," with each of their signatures at the bottom. The handwriting was reportedly West's. Then the two got in their silver Volvo and drove off. Probably to buy some decent stationery.