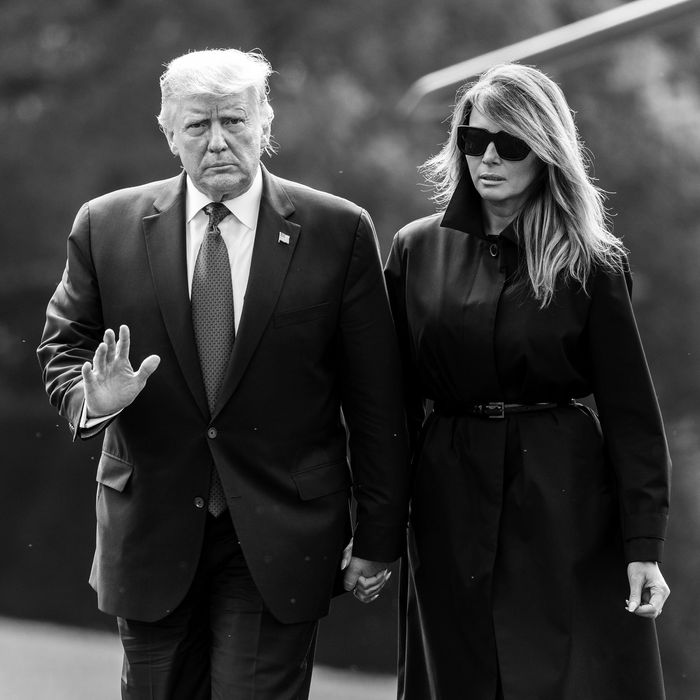 Donald and Melania Trump.
Photo: Andrew Harnik/AP/Shutterstock
Well, it finally happened: After downplaying the severity of a virus that has killed 200,000 Americans and regularly flouting social-distancing guidelines, Donald Trump has tested positive for COVID-19, and Melania as well. "Tonight, FLOTUS and I tested positive for COVID-19," Trump tweeted in the wee hours of Friday morning, disrupting sleep schedules across America. "We will begin our quarantine and recovery process immediately. We will get through this TOGETHER!"
Also, for those of you who are just now waking up to this news, good morning!
As of now, the president and First Lady appear to be experiencing mild cases, or at least so they say. According to a letter from the president's physician, Trump and Melania "are both well at this time." In Melania's words, they're both "feeling good." But still, the president and First Lady are reportedly quarantining and have postponed upcoming engagements.
Many questions abound — namely, how did they contract the virus? One potential source is Trump's aide Hope Hicks, who tested positive last night, and whose results seemingly prompted Trump and Melania to get tested. There's also Republican National chairwoman Ronna McDaniel, who reportedly has COVID-19 and tested positive on Wednesday. And then, there's the question of who Trump and Melania may have infected. Following Trump's announcement, Mike Pence got tested and his results came back negative, though he'll likely have to get tested again, given what we know about the virus's incubation period. Today, both Joe Biden and his wife, Jill, are getting tested, seeing as Biden recently shared a stage with Trump.
Certainly a busy news night! We also last night saw the release of tapes in which Melania can be heard ranting about decorating the White House for Christmas and mocking the plight of migrant families who were ripped apart at the border under her husband's administration's policy. As if this election cycle needed a little more chaos.