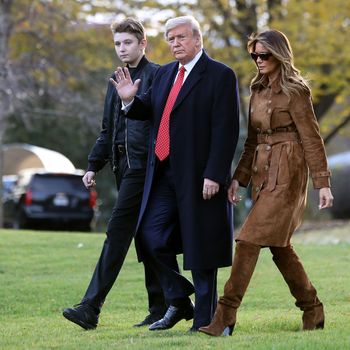 Donald Trump and his tall, handsome son Barron, with his wife, Melania.
Photo: Chip Somodevilla/Getty Images
One day after First Lady Melania Trump announced in a statement that 14-year-old Barron Trump had — like his father, mother, and several of their associates — tested positive for COVID-19, President Trump reflected on his son's diagnosis during a campaign rally in Greenville, North Carolina, on Thursday by saying that his son was … let me check my notes here … "very tall" and "beautiful" and "handsome." Huh. Okay.
"My Barron. My tall Barron. He's very tall. My beautiful Barron. And handsome. He is handsome," the president began. "But my beautiful Barron had it, and he recovered, like, so fast. I said, 'Wait a minute, how long did that take?' They have the strongest immune systems. They're better than all of us, that's what they are … They're kids, for some reason."
If that made as little sense to read as it did to type, here's a video of the comments.
In her statement on Wednesday, Melania wrote that, luckily, Barron "is a strong teenager and exhibited no symptoms" and that "in one way I was glad the three of us went through this at the same time so we could take care of one another and spend time together. He has since tested negative."
Barron's quick recovery from the virus, Trump argued, was an example of why schools should reopen. Never mind that, in some rare cases, children have gotten extremely ill from the virus and that, even if they have more moderate symptoms, they can still spread the disease to adults around them who may be more vulnerable. And never mind that classes at Barron's school, St. Andrew's Episcopal School in Washington, D.C., have been entirely virtual this year or that school reopenings across the country were linked to outbreaks earlier this fall.
Still, at least Trump called the kid "My Barron," instead of somehow referring to him as "Melania's son."