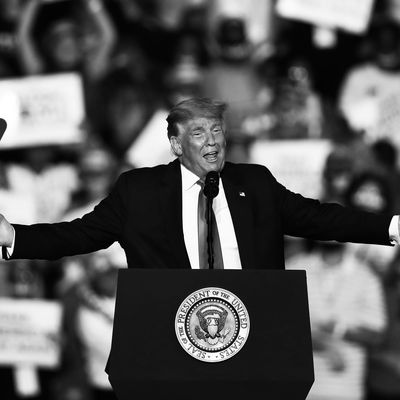 Hm.
Photo: Joe Raedle/Getty Images
To say Donald Trump went "off the rails" during one of his speeches is meaningless at this point. We left the rails behind years ago. But at a massive rally in Florida on Monday, the president and recently diagnosed COVID-19 patient managed to fully depart from this dimension as he talked about how "powerful" he felt, and how he wanted to "kiss everyone" (??) in the audience.
"The thing with me, the nice part, I went through it, and now they say I'm immune," an unmasked Trump began. This is not true: His doctors have never publicly said he has immunity, and the Centers for Disease Control and Prevention specifically cautions people not to assume that they are immune to COVID-19 just because they've had it before. Yesterday, in fact, researchers identified someone they believe to be the first person in the U.S. to have caught coronavirus twice.
This outright falsehood somehow managed to be the most grounded part of the president's speech, though. He went on: "I feel so powerful. I'll walk into that audience. I'll walk in there, I'll kiss everyone in that audience. I'll kiss the guys, and the beautiful women, and everybody. I'll just give ya a big, fat kiss."
It does not seem that the president followed through on his bizarre, smooch-based threat, but his appearance was the latest example of the president's willful disregard of COVID-19 safety precautions. Trump has repeatedly mocked his Democratic rival, Joe Biden, for wearing a mask in public, and while he was hospitalized for the coronavirus at Walter Reed, he ignored medical guidelines that call for patients who have tested positive for the virus to practice social distancing and self-isolation, and instead went on an unnecessary motorcade joyride that horrified medical professionals.
What's more, according to Axios, Trump has asked his team to put him on the road and schedule events every day from now until Election Day, on November 3, potentially putting people across the country at risk. (Several Trump associates have tested positive for the virus as well.)
Anyway, I didn't imagine ever having to type this, but I guess it bears saying: Seriously, don't kiss the president.