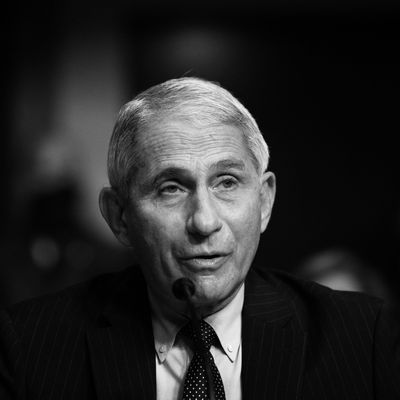 Photo: Graeme Jennings- Pool/Getty Images
Dr. Anthony Fauci, director of the National Institute of Allergy and Infectious Diseases, has continued to do his job of telling Americans the truth nobody wants to hear, and then letting that shit sink in. This week, the Fauci sound bites were extra depressing. For instance, his speculation that the country may not exhibit "semblances of normality" until 2022. Semblances!
Fauci said during a University of Melbourne panel discussion on Tuesday, "I think it will be easily by the end of 2021, and perhaps even into the next year before we start having some semblances of normality." He said that while the United States is expected to have a vaccine developed in the next few months, it's possible a "substantial proportion of people" won't be vaccinated until the middle of next year.
On Wednesday, Fauci elaborated on his bleak prognosis, pointing to the current surge in COVID cases. "We're not in a good place," said Fauci during a Q&A session on Wednesday, gently reminding us the country is witnessing about 70,000 new cases each day. "That's a bad position to be in," the doctor added.
CNN reports that 29 states set records in October for most new daily cases since the start of the pandemic, according to research out of Johns Hopkins University. The data also indicates that the daily number of new cases this past week is up 21 percent nationwide compared to last week. Cases are rising in more than 40 states as of Wednesday. The University of Washington's Institute for Health Metrics and Evaluation has projected the daily U.S. death toll will surpass 2,000 by January 1 if current conditions don't change for the better.
Meanwhile, the New York Times reported on Wednesday that France and Germany are beginning to implement lockdown measures this week.
Fauci urged Americans to, at the very least, wear a mask in public. "If you don't want to shut down, at least do the fundamental basic things," he cautioned. I'd say this man is a hopeless optimist.