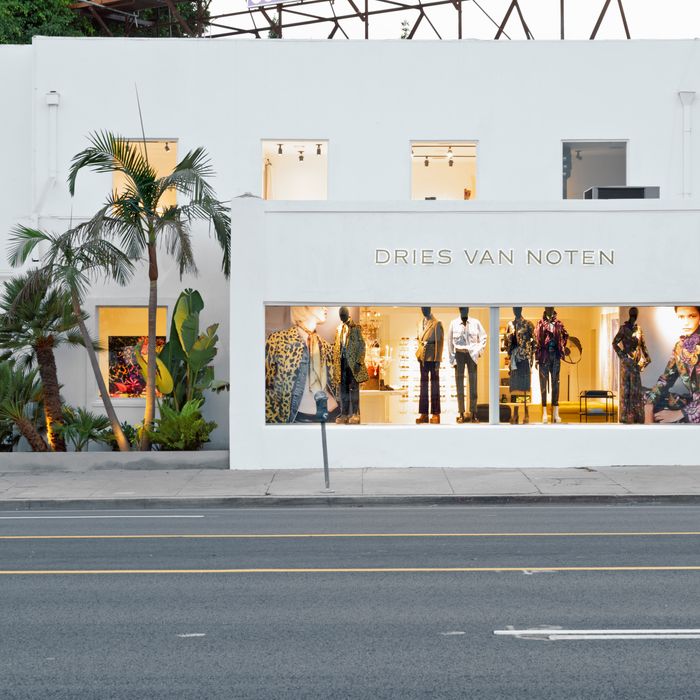 Opening a brick-and-mortar store during a pandemic, and at a time when many companies are banking on e-commerce, seems like a risk or, at best, a counterintuitive move. But that's exactly what Dries Van Noten is doing. On Friday, he will open his first store in America — in Los Angeles.
"The obvious choice would be New York," he said on Wednesday from his office in Antwerp, "but why not start in L.A.?" Few designers were as synonymous with Barneys New York as he was. But Barneys is gone, and Van Noten himself has changed. Two years ago, the designer sold a majority stake in his brand to the luxury group Puig, which also owns Gaultier and Nina Ricci. Last fall, to the surprise and delight of many, he collaborated with the couturier Christian Lacroix, a sign that he was continuing to be inventive. Then, last week at the Paris spring shows, he shed the romance and eclectic layers he's known for and offered a pared down collection that sparkled with energy and youth. In a way, he leaned into the limitations caused by the pandemic, characterizing the results as a fresh creative start.
And that's also the best way to view the L.A. venture. The building, at 451 N. La Cienega, was formerly occupied by Opening Ceremony, and when it became vacant this past spring, Van Noten took it. Actually, it's two buildings — the Big House, a concrete-and-glass structure that once served a jewelry manufacturer, and the Little House, an ivy-covered 1950s bungalow, with a parking lot. At 8,500 square feet, the compound is now Van Noten's largest store — roughly four times the size of his original Antwerp flagship. He also has men's and women's shops in Paris, and several throughout Asia. Last month, the company opened its first in mainland China, in Shanghai.
"It's been quite exciting to find a store in lockdown and then design it in lockdown," Van Noten told me on Zoom. "Looking for all the pieces of furniture in the evenings on 1stDibs. And now putting it all together by FaceTime and Zoom. So it's really a virtual store for me."
A passionate gardener, he even worked remotely with an L.A. friend to visit nurseries and select palms and other plants for the entranceway. It now resembles a jungle.
"And Los Angeles is a great city because you can do things by trial and error," he said. "You can do experiments. I don't know that New York would be so forgiving if you do some things that don't work. So L.A. is a playground." He added, "You feel that stuff is happening. And that was exactly the idea of the store, so that it was not just a fashion store but it's more like a platform — a space where things can happen."
To that end, the shop will host artists' exhibitions, musicians, and eventually lectures and even presentations by local fashion designers. His friend, the designer Ann Demeulemeester, who with Van Noten was part of the Antwerp Six, which ushered in Belgian fashion in the late '80s, will take over the Little House for the next five weeks to present tableware, cutlery, and lamps she creates for Serax. A jewelry designer named Alan Crocetti will show his work in a space in the main building.
And Van Noten plans to have a drive-in cinema in the parking lot to show the early experimental films of Len Lye, the New Zealand artist who inspired the prints and colors in the designer's spring collection.
On a virtual tour yesterday with Van Noten, it was clear the store has a completely different vibe from those in Paris and Antwerp. They're old-world, chic, cozy. And L.A. is postindustrial, with white walls, gray concrete floors, and black spotlights in the ceiling. The furnishings are a mixture of mid-century modern — a boat-size yellow sofa next to a 1928 Steinway grand — and transitory objects, like a wooden cable spool repurposed as a whitewashed display table.
As we Zoomed through the women's sections on the main floor, Van Noten said, "I wanted to include art in the store, but I didn't want to have that mercantile aspect, or that prestige aspect — Look, we have the most expensive artworks in the store. So we asked young up-and-coming artists to paint directly on the walls." The work will stay there for a year and then be painted over. And Van Noten's favorite floral artist, the genius Azuma Makoto, has created large, translucent photos of flowers that will cover the sunniest windows. "It's like stained glass made in flowers," he said.
Another difference are archive rooms for both men and women. For the first time, Van Noten will sell vintage pieces that for one reason or another the company has kept. "We have pieces from all collections," he said. "Things from the Lacroix collection of last season and going back to the '90s. Don't get me wrong — we don't touch our personal archive. It stays complete. But these are excess pieces we can sell." The two rooms are wallpapered with runway and editorial images from those periods. And, post-COVID, the company plans to invite customers to resell their own Dries pieces, provided they're in good condition.
"This is really like a trial," he told me. "Fast fashion is so much on people's minds — that it's not making sense anymore." And he said, "A beautiful thing stays beautiful whether it's five years old or ten. So this is really to take the speed out of fashion a little."
Even with the versatility of the buildings, which will include a small open kitchen for drinks and snacks, I wondered if Van Noten is still not concerned about opening during a severe recession.
"Of course, there are a lot of concerns. Is it a risk we can take? Is it a folly? But we're careful and, luckily, we have the strong shoulders of Puig, which can help us. But I think for me it's also kind of a sign of hope. I don't want to be negative."