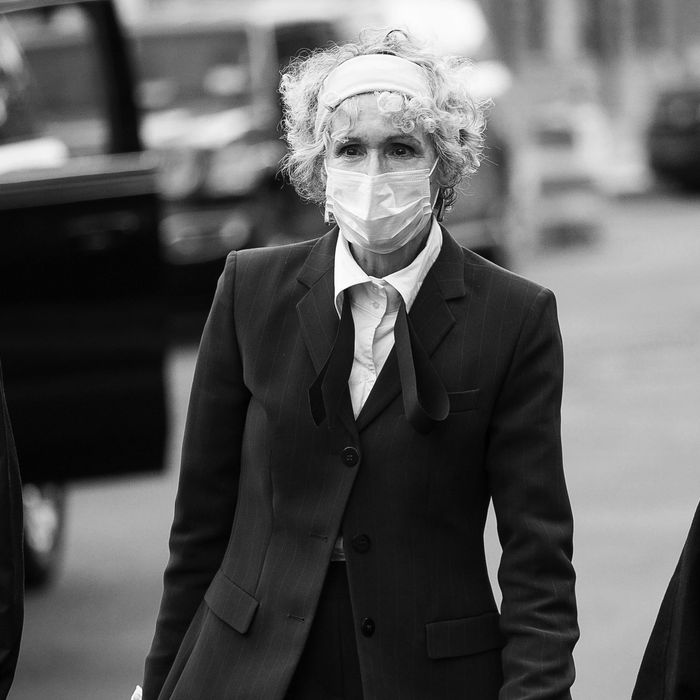 Photo: Justin LaneE/EPA-EFE/Shutterstock/JUSTIN LANE/EPA-EFE/Shutterstock
Last month, the Justice Department tried to block a defamation suit E. Jean Carroll filed against President Trump, stemming from a rape allegation she made against him in 2019. On Tuesday, a federal district-court judge in Manhattan rejected the Justice Department's defense, meaning Carroll's lawsuit can advance and the president will be dealt with as a private citizen for the purposes of her case.
In her memoir, What Do We Need Men For? A Modest Proposal, which was excerpted in New York Magazine last year, Carroll wrote that Trump raped her in the dressing room of a Bergdorf Goodman department store in the mid '90s. Her lawsuit against Trump alleges that his response to the allegations — wielding his gargantuan platform not just to deny her claims but to call her a liar — damaged her reputation. After Carroll's article came out, Trump claimed to have never met her (despite the fact the two were photographed together at a party in 1987), disparaged her by saying "She's not my type," and claimed that Carroll was lying to try "to sell a new book."
In its suit filed in New York state court last month, the Justice Department cited the Federal Tort Claims Act, which provides federal employees with legal protections against litigation related to their job performance. The Justice Department has used the law several times to shield members of Congress from defamation lawsuits, but "rarely, if ever," for the purposes of presidential immunity, according to the New York Times.
But Judge Lewis Kaplan ruled that the president's comments spoke to incidents alleged to have taken place long before he assumed office, so federal law has no standing in Carroll's case. "His comments concerned an alleged sexual assault that took place several decades before he took office," wrote Kaplan, "and the allegations have no relationship to the official business of the United States."
Carroll said in a statement that she was satisfied with Judge Kaplan's ruling. "When I spoke out about what Donald Trump did to me in a department store dressing room, I was speaking out against an individual," said Carroll. "When Donald Trump called me a liar and denied that he had ever met me, he was not speaking on behalf of the United States." The Justice Department has yet to comment on the ruling, according to the Times.
Carroll's lawyer, Roberta Kaplan, said that her suit will continue to progress through the federal-court system. At least 26 women have accused Trump of sexual misconduct, including harassment, groping, and rape.