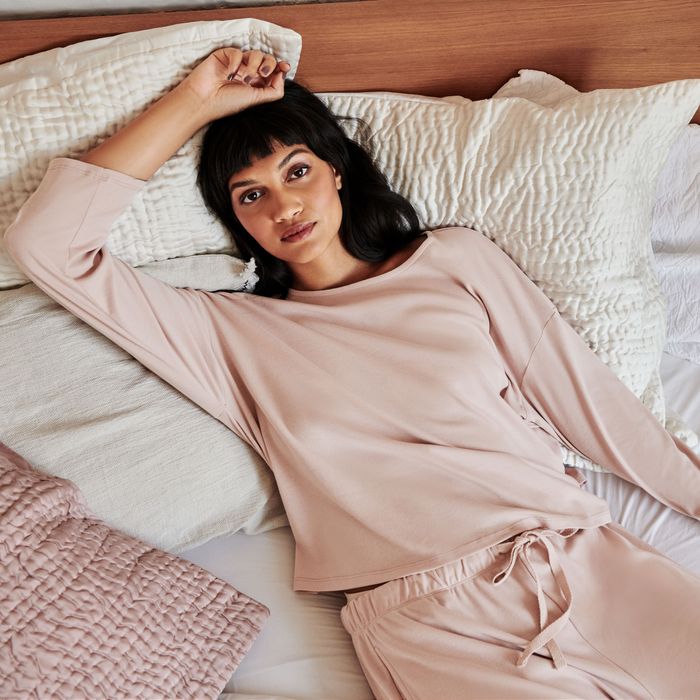 Photo: Courtesy of Eileen Fisher
Eileen Fisher's clothes are so comfortable, her customers and employees have been known to sleep in them. Even Eileen Fisher herself has gotten into bed wearing cotton and silk dresses from the main line, snuggling underneath her Eileen Fisher–branded sheets and blankets, and presumably dreaming neutral-colored dreams of sumptuous natural fibers.
But until now, Eileen Fisher has never explicitly sold sleepwear. "For years, our customers have been asking for it," Fisher told the Cut one day this fall. "It's one of our biggest searches." And today, after 35 years of waiting, their dreams have finally become a reality. The new Eileen Fisher sustainable sleepwear collection is here to satisfy as many different types of sleepers as possible, with a wide range of styles starting at $48, and sizes ranging from XXS to XXL. You can even slip your feet into some Eileen Fisher slippers.
Fisher refers to the new collection as a "system." What that means is that the brand has developed a number of different shapes — from tank tops to long-sleeve tunics to nap dresses — to give customers the ability to mix and match. Maybe you run hot on top and cold on the bottom. Or vise versa. Maybe you like a tapered pant instead of a wide leg. Either way, there's an option. Fisher refers to additional pieces, like a $348 brushed cashmere robe, as the "friends" of this core system, to be added over time.
It's a purposeful, more realistic way of designing that Fisher has applied to her main line in the past and would like to do more going forward. The events of the last six months have made it all the more clear that brands in general need to be thinking this way. "Over the years, we were just expanding our line so much that we got a little bit off our center," Fisher said. "So we really slowed down [during the pandemic], almost to a full halt for a couple of months there, just to reassess everything. We started thinking: What are these perfectly simple pieces, and how do they actually serve a really broad group of customers? And how do we put them together?"
Unfortunately, Fisher's own life hasn't slowed down at all since March. In fact, she's busier than ever. "But at least I have my comfortable clothes," she said with a laugh. Shop the new Eileen Fisher sleepwear collection, below.
Photo: Alex Caesar Estrada
Photo: Alex Caesar Estrada
Photo: Alex Caesar Estrada
Photo: Alex Caesar Estrada
Photo: Alex Caesar Estrada
Photo: Alex Caesar Estrada
Photo: Alex Caesar Estrada
Photo: Alex Caesar Estrada
Photo: Courtesy of Eileen Fisher
If you buy something through our links, New York may earn an affiliate commission.