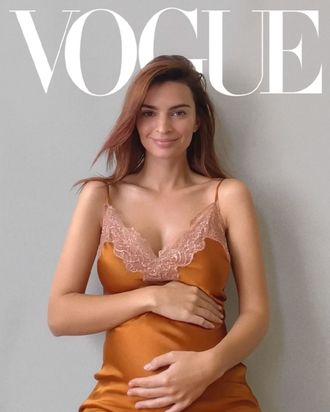 She's preg! Congrats!
Photo: Cass Bird/Vogue
With so many celebrity baby announcements made during the pandemic period, it must be hard to find new and exciting ways to share news of your impending parenthood. You could just do it on social media, although more innovative avenues probably exist. You could amp up the element of surprise by keeping the whole thing totally secret, so that not even a whisper reaches tabloid ears, although that's been done a few times at this point. Or, you could make the big reveal in a digital Vogue spread, including a mock cover, an essay, and a short film directed by Lena Dunham. This is the route model and essayist Emily Ratajkowski — who, yes, is pregnant — chose to take, and let me just say: original!
Before you ask, no, EmRata does not know if she and husband Sebastian Bear-McClard are having a boy or a girl or a nonbinary baby and does not expect an answer on that score until the "child is 18 and … they'll let us know then," she writes. The essay collects some of her thoughts on gender and gestation; the accompanying video, entitled "Who Will You Be?" collects intimately curated images of her pregnancy. It is equal parts sexy and amniotic, and is, according to Dunham, the "opposite of a People magazine baby announcement." (No shade to celebs who choose to go the People route, I'm sure.)
We do not currently know how far into her pregnancy EmRata has progressed, although we look forward to seeing the journey documented on Instagram. Heartiest congrats to EmRata and husband!