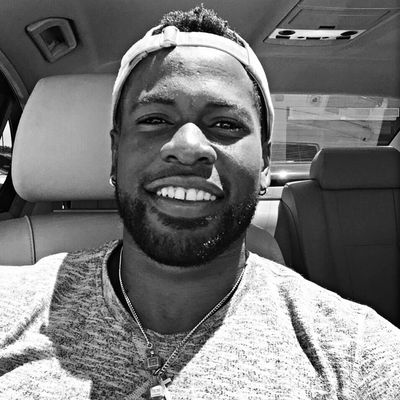 Photo: Jonathan Price/Facebook
Jonathan Price, a 31-year-old Black man, was shot four times in the torso outside a Texas convenience store on Saturday night. His death is the latest police killing of an unarmed Black American to make national headlines. The entire confrontation between Price and officer Shaun Lucas, 22, was recorded on his body camera; reports say that moments before his death, Price reached out to offer Lucas a handshake.
According to S. Lee Merritt, the attorney for Price's family, Price was intervening in a domestic dispute when Lucas, who was responding to a report of a disturbance at the store, Tased and shot him. Price never became violent, Merritt said: "Why this officer still felt the need to Tase and shoot Jonathan is beyond comprehension," he told reporters.
In a statement posted to Facebook on Sunday, Merritt wrote, "Yesterday [Price] noticed a man assaulting a woman and he intervened. When police arrived, I'm told, he raised his hands and attempted to explain what was going on. Police fired tasers at him and when his body convulsed from the electrical current, they 'perceived a threat' and shot him to death."
On Monday, Texas Rangers investigating Price's death released a statement saying that their investigation "indicates that the actions of Officer Lucas were not objectionably reasonable."
Lucas was arrested Monday night on murder charges and held on $1 million bond.
Here, what we know about the killing of Jonathan Price:
Who was Jonathan Price?
According to Texas Monthly, Price was raised by his single mom in Wolfe City, a small town northeast of Dallas. He was a high-school football star and went on to play at Hardin-Simmons University in Abilene before working as a personal trainer in Dallas. He eventually moved back home and worked for the city government. He was known for giving inspirational talks to local athletes and working with kids, earning him the nickname Coach Price.
"I just grew up knowing him as the star athlete who was going to do big things someday," an acquaintance told TM. "He was known as this stand-up guy who beat the odds." Another friend called him a "pillar of the community."
What does Lucas's body-cam footage show?
Body-cam footage has not been released to the public, but the affidavit from Lucas's arrest details what it captured on the night of the shooting. After Lucas arrived at the Kwik Chek convenience store and gas station in Wolfe City around 8:30 p.m., he was approached by Price, who came "very close to Officer Lucas, asking 'You doing good?' multiple times while extending his hand in a handshake gesture," according to the affidavit.
"Price apologized for broken glass on the ground and stated someone had tried to 'wrap me up,'" it says. Lucas told investigators he believed Price was intoxicated and attempted to detain him. Price allegedly stated, "I can't be detained." Lucas tried detaining Price "by grabbing his arm and using verbal commands" before producing his Taser. According to the affidavit, Lucas told Price he would be Tased if he didn't comply and Price began to walk away. Lucas then used the Taser on Price, but it didn't fully incapacitate him, and Price "continued to walk toward Officer Lucas" while being Tased. "Price appeared to reach out and grab the end of Officer Lucas' Taser," the affidavit reads, and Lucas shot him four times in the upper torso. Price later died in the hospital of his wounds, according to the preliminary autopsy report.
Lucas was arrested on October 5 after investigators determined "the actions of Officer Lucas were not (objectively) reasonable" and that he "intentionally and knowingly caused the death of Price." His attorney, who represented Botham Jean's killer, Amber Guyger, said in a statement that the officer "only discharged his weapon in accordance with Texas law when he was confronted with an aggressive assailant who was attempting to take his Taser."
What does the Price family say?
Friends and family say that witnesses told them Price was there breaking up a domestic dispute. "The situation was resolved before law enforcement arrived, according to witnesses," Merritt said. "Why this officer still felt the need to Tase and shoot Jonathan is beyond comprehension." Witnesses also say that Price was shot in the back, but Texas Rangers haven't commented on the specifics of where Lucas shot him.
"My son got life. I want him to get life," Price's mother, Marcella Louis, said of the charges against Lucas at a vigil in Wolfe City on Monday. "I want to see him have justice, to feel the pain I'm feeling.
What happens now?
Lucas has been placed on administrative leave. He was booked into the Hunt County jail on a $1 million bond; he is now being held in the Collin County jail. A full autopsy report of Price's body is expected in six to eight weeks.