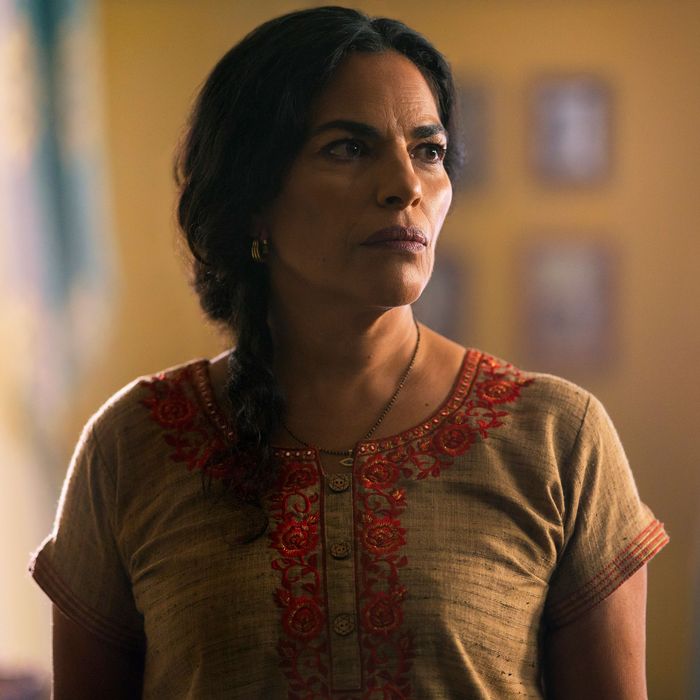 Photo: Courtesy of Amazon Studios
As a kid, before going to a wedding, on a trip, or basically any sort of event where I'd be with people from outside of my family, one of my grandparents would put a black streak of kajal — a sort of kohl eyeliner — on my forehead, just near my hairline. They'd mutter a prayer as they did so: "It's to protect you from the evil eye," they'd say, "from black magic."
We got a taste of the sunnier side of superstition in Indian culture more recently, in Netflix's Indian Matchmaking, when the birth charts and horoscopes of potential matches were reviewed to check for compatibility. And now, we're seeing the darker side of it in Amazon Prime's Evil Eye, which also has a horoscope-matching scene, but only because the film's lead, Usha (Sarita Choudhury), suspects her daughter's fiancé to be the reincarnation of a man who tried to kill her decades ago.
From director brothers Elan and Rajeev Dassani, and produced by Priyanka Chopra and Jason Blum, Evil Eye is a new horror-thriller adapted from Madhuri Shekar's book of the same name. Available on Amazon as a part of Welcome to the Blumhouse, a series that spotlights work from diverse young directors, it's America's first commercial horror movie created by and starring South Asians. But like many of Blumhouse's films (Get Out, The Purge), horror is only a vehicle to explore more urgent themes, like trauma and abuse.
Most of the film takes place as phone calls between Usha, in Delhi, and her daughter, Pallavi (Sunita Mani, late of GLOW), who seems to have just met her dream guy, played by Omar Maskati. Everything seems fine until Usha starts having flashbacks about her first husband, a controlling and abusive man who tried to kill her when she left him. As she noticies similarities between him and her daughter's fiancé, she tries to explain to Pallavi that he could be dangerous.
Pallavi, of course, doesn't want to hear it, and anyone who has immigrant parents will recognize the tension brought on by the cultural and generational divide between Usha and her daughter. (In this case, it's even more stressful, since we suspect the latter's life is at stake.) And while Indian mythology is the narrative juice of Evil Eye, the film ultimately brings things back down to earth: "Men like this will always be there," Usha tells Pallavi, "so you'll teach your daughter, and your daughter will teach their daughter, that none of this is their fault, and you will face him together."
Ultimately, it's a story that uses traditional superstitions to explore other themes, such as the victim-abuser dynamic and generational trauma. But like every good horror film, it's the movie's ability to convince the viewer of their own doubt and shaky faith that makes it so good. Has Usha's abuser actually been reincarnated? Or is she — traumatized by her own past — imagining the horror? Which is more terrifying?