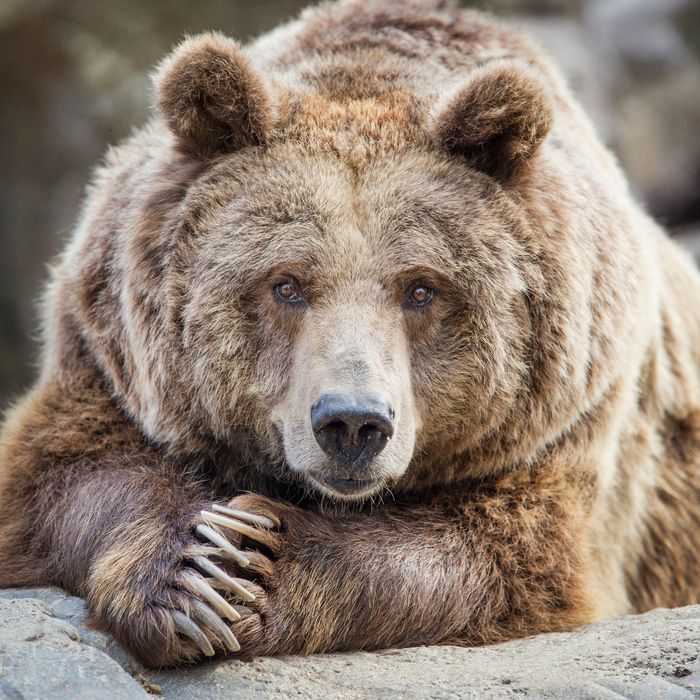 Behold, a fat bear.
Photo: Getty Images
Perhaps at some point in the past week or six months you have thought, Damn, this year truly blows, can it freaking end yet? And, well, it cannot; such is the nature of time. But you may be unaware that we have currently reached a small reprieve, a compelling reason for waking up every day, a holiday actually worth observing — the most glorious week of the year.
Your guess is correct: I am, of course, talking about Fat Bear Week, the annual March Madness–style competition held by Katmai National Park in Alaska to determine which ursine resident has beefed up so remarkably that they're worthy of recognition. And voting is already underway.
For those unfamiliar with this single-elimination tournament, here's a quick synopsis: We the People can freely tune into Katmai's grainy live cam to observe hefty brown bears frolicking in Brooks River and lunging their huge bods at jumping sockeye salmon, upon which they'll gorge themselves to survive winter hibernation. Then, we get to vote for our favorite beefy boys and girls, who are pitted against each other on the park's dedicated Fat Bear Week website. This year, the competition started on September 30 and concludes on October 6.
The competition is already riveting. In the first match yesterday, Walker ("Big-Booty Bear") destroyed Bear number 856, the "Big Boss," and will now go on to face 480 Otis, who is apparently his "Zen master." Meanwhile, Bear 812 ("Son") slammed number 402, though Katmai notes his winning streak may be "fleeting": He's about to go up against number 747, who's "super-colossal."
Now, we wait to see which lucky bear will join those who have previously been crowned victorious, which includes 435 Holly, a strapping broad who cinched the title last year and is back in the ring this year, and 409 Beadnose, whom a park ranger described to the Cut as "an independent woman." All right, ladies!
You can watch the big, beefy kings and queens, and cast your vote here.
This post has been updated.