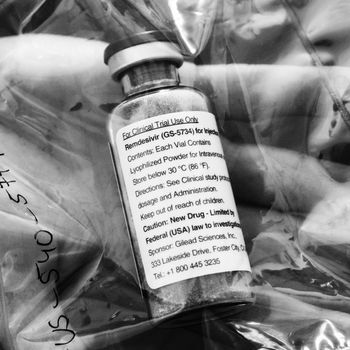 Remdesivir.
Photo: ULRICH PERREY/POOL/AFP via Getty Images
We're committed to keeping our readers informed. 
We've removed our paywall from essential coronavirus news stories. Become a subscriber to support our journalists. Subscribe now.
The Food and Drug Administration has formally approved the country's first treatment for COVID-19: the anti-viral drug remdesivir.
Since the start of the pandemic, the drug — which was developed by Gilead Sciences to treat hepatitis C and Ebola, and is now sold under the brand name Veklury — has been touted as a potential coronavirus treatment. In April, the National Institute of Allergy and Infectious Diseases found that patients administered remdesivir recovered four days faster than those given a placebo. Following the success of the clinical study, the FDA granted remdesivir emergency authorization, permitting doctors to use it intravenously on nearly all hospitalized COVID-19 patients — including, notably, President Trump.
Not much will change in practice following the FDA's formal approval, which the agency says is supported by data from "multiple" clinical trials. In fact, the official authorization narrows the population who can be administered remdesivir. The FDA has approved it for hospitalized patients who are at least 12 years old, and who weigh at least 88 pounds. The decision, FDA Commissioner Stephen M. Hahn said in a press release, "represents an important scientific milestone in the COVID-19 pandemic."
While it's a significant step indeed, some studies have contradicted remdesivir's purported efficacy. Earlier this month, the World Health Organization conducted a study of more than 11,000 people across 30 countries and found that the drug had "little or no effect" on COVID patients' chances of survival, or how long they required hospitalization. Additionally, the New York Times notes that the drug was not subjected to an outside panel of experts before approval — though Dr. Peter Lurie, president of the Center for Science in the Public Interest, says that's not uncommon.
"The F.D.A. tends to pick for advisory committees those drugs that are most novel and those that present safety issues, and those that are close calls with respect to effectiveness," Dr. Lurie told the Times. "This is not a blockbuster drug. This is not some massive breakthrough. It's a drug that appears convincingly to benefit patients, but it's not some kind of miracle cure."
The drug also comes with a prohibitive price tag: $3,120 for U.S. patients with private health coverage.