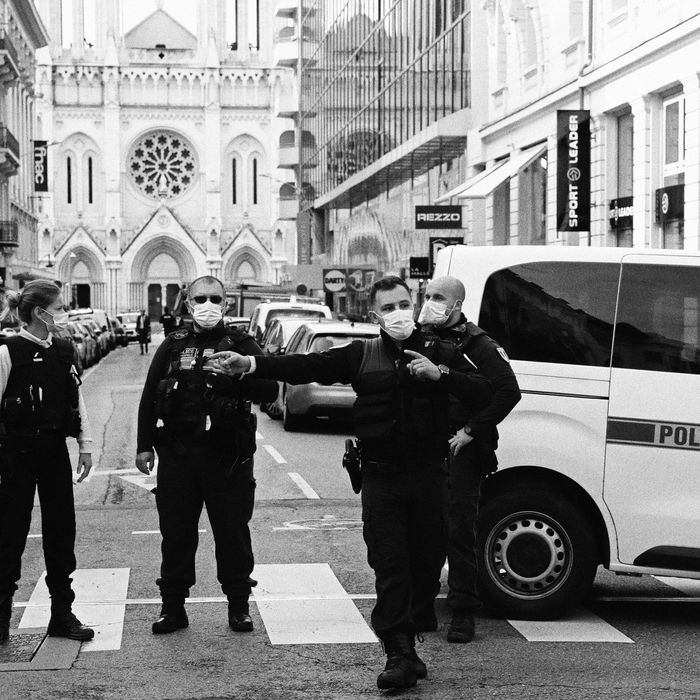 Police outside the Notre-Dame Basilica in Nice.
Photo: VALERY HACHE/AFP via Getty Images
Three people are dead after a man wielding a knife attacked a church in the southern French city of Nice on Thursday. According to Reuters, of the three, two people died in the city's Notre-Dame Basilica, including an elderly woman who was beheaded, and one woman managed to flee to a nearby café before succumbing to her stab wounds in the hospital.
The attack comes amid a period of growing tension in France over secularism and religious equality. In a statement Thursday, Nice mayor Christian Estrosi claimed the attacker shouted "Allahu Akbar," and he compared the attack to the recent murder of Samuel Paty, a schoolteacher who was beheaded by an 18-year-old Chechen refugee outside of Paris earlier this month. Authorities believe Paty was targeted after he showed his students caricatures of the Prophet Muhammad, whose depiction is forbidden in Islam.
In a speech following Paty's murder, French president Emmanuel Macron said that France would "defend the freedom that you taught so well, and we will promote secularism, we will not renounce caricatures, drawings, even if others retreat." Per NBC News, the president's comments drew ire from several Muslim majority countries, with protesters in Pakistan, Iraq, and Bangladesh calling on France to condemn caricatures of the prophet. On Wednesday, after the satirical weekly magazine Charlie Hebdo published a cover that depicted Turkish president Recep Tayyip Erdogan pulling up the skirt of a woman wearing a hijab, Erdogan said, "Macron is against Muslims. He is sowing seeds of hatred," and called for a boycott of French goods.
Also on Thursday, police in the French city of Avignon killed a man who was reportedly shouting "Allahu Akbar" and brandishing a gun at passersby, and a guard at the French consulate building in the Saudi city of Jeddah was attacked. In an analysis for the BBC, Paris correspondent Hugh Schofield wrote, "The terrorist threat level in France is as high now as it was in 2015–16, the terrible days of Charlie Hebdo, Bataclan, the Nice lorry-killer, and the murder of Father Hamel in his church in Rouen."