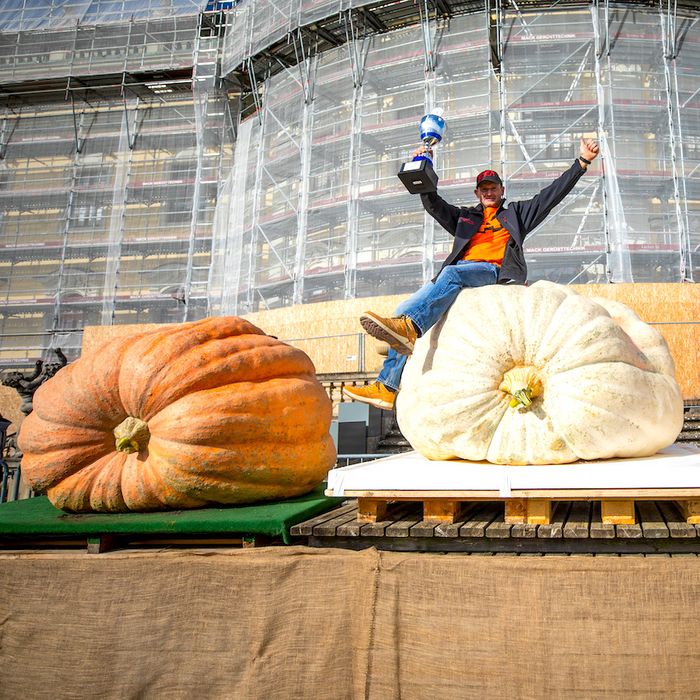 King pumpkins.
Photo: picture alliance/dpa/picture alliance via Getty Images
Once upon a time, we wondered why everyone wanted their celebrity obsessions to run them over with motor vehicles; now, nearly two years later, the answer is very clear: because they hadn't seen Germany's big pumpkin yet.
The hulk squash in question comes from Heretshausen in Bavaria, and according to CNN, it weighs a pleasing 1,588 pounds, or 720.5 kilograms. It is huge and misshapen and white, like an oversize ball of bread dough or a mutant slug. It belongs to grower Michael Asam, and it claimed the [coveted, I'm sure] title of Germany's heaviest kürbis at the Ludwigsburg Pumpkin Festival on Sunday. This year's winner is not as big as 2017's nearly 800 kilo stunner — allegedly weighing approximately as much as the heart of a blue whale, or 9,323 bratwurst, or one whole cow — nor did it approach the magnitude of 2018's 916.5 kilo champ. But as competition organizer Stefan Hinner observed of Asam's winner, to Deutsche Welle, "The size of [Asam's] pumpkin is simply impressive — especially considering they take the same amount of time to grow as small pumpkins."
I agree. A 1,600 pound pumpkin is impressive, and more than enough for my purposes, which are: Crush me, pumpkin king.
This is, in part, a symptom of unbridled Halloween lust — I love the spooky season! — but also, it is a reckoning with the current circumstances. We are hurtling toward an immensely significant election amid a news cycle that refuses to take a damn seat. Why, the weekend alone handed us a president with an apparently severe coronavirus infection and also a powerful will to disregard medical advice, so considering that 2020 still has three months left to toy with us? Given the choice between the weight of all that anxiety or an implausibly large and also very alluring pumpkin on my chest, I choose to become one with the gourd. Flattening by beautiful, forklifted squash > flattening by asteroid, after all.