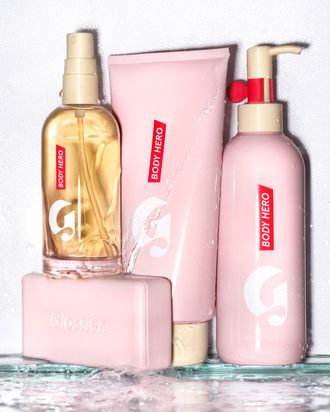 Photo: Courtesy of Glossier
Bones are four times stronger than concrete. Eyelashes last 150 days. The human nose can detect one trillion smells. Our bodies, as a wise man once said, are a wonderland — weird, miraculous, and mysterious. Our bodies are also heroic, performing millions of lifesaving actions for us on the daily, without asking for much credit. Glossier recognizes that bodies should be celebrated, so it has added several new products to its Body Hero line.
Joining its body oil, Glossier is adding an oil mist and an exfoliating bar. The Body Hero Dry-Touch Oil Mist is a body oil in spray form designed to absorb in seconds. The Body Hero Exfoliating Bar will be the new millennial bathtub status symbol, a bar soap in soft pink that contains tiny grains of bamboo powder. Both products have the same orange-blossom-neroli scent as the body oil and are vegan.
To celebrate the campaign, Glossier teamed up with some true body heroes: the glorious and underappreciated women of the WNBA. Sue Bird, Seimone Augustus, Lexie Brown, Kalani Brown, Amanda Zahui B., Natalie Achonwa, Stefanie Dolson, and Gabby Williams self-shot some "Get Ready With Me" footage for the brand. You can watch them being all moisturized and smooth below.
Photo: Courtesy of Glossier
Photo: Courtesy of Glossier
Every product is independently selected by our editors. Things you buy through our links may earn us a commission.