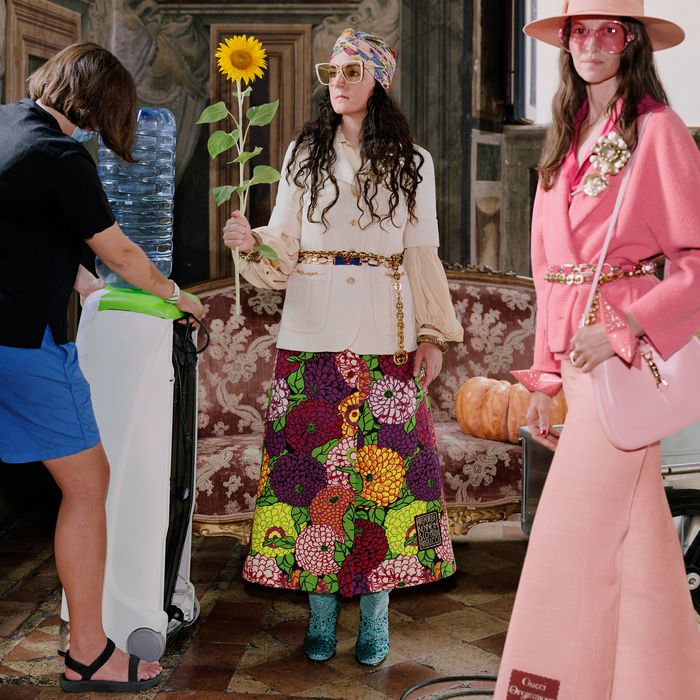 Last February, Gucci designer Alessandro Michele began the process of turning his world inside out. For his fall 2020 show, Gucci employees dressed models in front of a live audience. Then, in July, for the brand's resort 2021 "Epilogue" show, members of the Gucci design team were photographed wearing the collection. Viewers around the world were invited to tune into a 12-hour livestream of the photo shoot, which replaced the brand's runway show. Today, the brand revealed the resulting images, shot by Minneapolis-based photographer Alec Soth at two contrasting Roman locations: the grandiose Palazzo Sacchetti and the graffiti-covered Campo Boario area.
"Breaking the spell that forces my collaborators to passionately work on clothes they later have to abandon, I asked the team to wear them," Michele wrote in a statement. "And so we did a self-sufficient job, all inside our house, mixing things we had already done with things we were about to — overcoming the schemes of the time coherently with my idea of The Epilogue, the final resolution of a future that is largely present".
For many of the employees involved, this was the first time in front of  the camera as opposed to behind-the-scenes. Michele calmed their nerves by telling them to just be themselves. "The environment was really glorious," said one. "It felt like a bunch of kids playing in the most sublime theater set."
Below, five members of the team recount their experiences.
Alexandra Muller, Women's and Men's Ready-to-Wear Embroidery R&D Senior Designer
"I had two outfits. One was a short-sleeved ivory jacket over a nice big blouse and a cotton skirt. It was something that I would normally feel quite comfortable wearing. My other one was a long organza dress with frills and iridescent sequins on top. It was very much like playing dress-up again, like a little girl. I worked on the embroidery on the dress, so I really hoped that I would get that one. You don't have so many occasions where you get to dress up and walk around."
"When I was lying on a sofa with my big dress, and I had the sun in my eyes, I was really worried about my makeup running because my eyes were tearing. It's not something I'm used to, so I got a bit nervous about ruining the shoot because they kept having to touch me up. In the end they just told me to close my eyes and open them when the photographer took the shot. It was pretty funny. The nicest thing people told me when they saw the lookbook photo was that I looked like me.
Marvin Desroc, Men's Ready-to-Wear Junior Designer
"I've never modeled before, so I was a bit nervous. But what was great is that they just asked us to be ourselves. We didn't have to properly model or act; it was just about showing up. I wore two looks — one my team and I actually designed, which was cool. It was a faux fur coat with a G-G logo all over. And then there was another look that was more formal with a tailored jacket that was a bit oversize."
"We're used to seeing models with a certain stature — they don't have my body. It made it more real, and at the end of the day, we make clothes for real people. It's funny, it was actually really, really hot, and I was really sweating [laughs]. Ugh, I loved that faux fur coat, though. My family thought it was cool, but they're not from a fashion background, so they were asking really innocent questions like, "Why are you holding a handbag?"
Geraldo da Conceicao, Celebrity Design Director
"One of the looks I wore — it was a dark brown sweater with brown corduroy trousers — it really made me remember my father, and my mother when she used to get dressed up in the '70s. It was my first notion of dressing up. Especially in the European context, I always hear my female friends talk about what their mom wore, or what their grandma wore. Guys talk about wearing their grandfather's clothes. It's a very living thing for the Europeans I know. The concept just felt very homey, if you like. Very familial. There was just a really natural, humanist aspect that [Michele] projected."
Sabrina Pilkati, Junior Designer
"I like to take pictures of other people during my free time, so to be on the other side of the camera was very new for me. I'm pretty shy, but it was actually very chill. They told us just to act normal, as we are. I do leather and faux fur, and I wore a piece that I had been working on."
"The experience made me see a different way of working with the models. We usually see them and work with them, but it was different to be in their shoes. They're always surrounded by people, and I can understand now that that's not always easy. Now I'll be more mindful when we work with them."
Min Yu Park, Men's Ready-to-Wear Formal Tailoring Junior Designer
"When you are a model, you have a different consciousness. I really cared about the garment I was wearing, maybe because I know how much work was behind it. Trying different looks during the fitting with Alessandro was really fun, and the most nerve-wracking moment for me. It was a different way to see my work. I received a lot of messages afterward. My parents are in Korea, and they saw a story in the newspaper talking about it. Also, my father saw someone on Korean television speaking about it. I was like Oh my God, this was more huge than I thought!"
Below, a video of the Gucci Epilogue shoot.
CREDITS
Creative Director: Alessandro Michele
Art Director: Christopher Simmonds
Photographer: Alec Soth
Film Directors: Damiano and Fabio D'Innocenzo
Locations: Palazzo Sacchetti and Campo Boario
MUSIC CREDITS
"Mani Meme" Pas De Deux
Written by De Nota
Arranged & produced by Walter Verdin