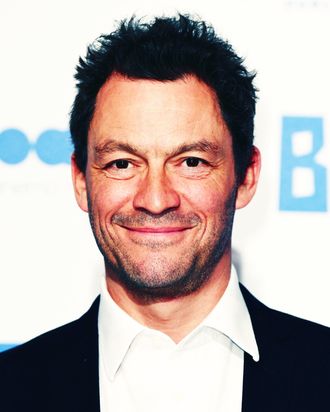 Dominic West.
Photo: Karwai Tang/WireImage
Two weeks ago could I have told you who Dominic West is? Almost certainly I would have guessed actor, but on an off day I might have gone with "fictional boss from sexy TV show about financial intrigue" instead. Now, after a whirlwind ten days that includes paparazzi photographs of a louche romantic interlude with his colleague Lily James and a handwritten letter professing the continued strength of his marriage to his wife of 19 years, I am left with no doubt: He is that guy from The Affair.
And it seems Dominic West is not done with us yet, no, he is only getting started. Variety reported on Tuesday that the actor is in talks to come on board one of the most prestigious and un-cancellable television enterprises in recent history. West will reportedly depict Prince Charles in seasons 5 and 6 of The Crown.
According to Variety's sources West is "in late-stage discussions for the role though the deal isn't done." These final seasons of the acclaimed Netflix series, which follows some six decades of Windsor family history beginning with Queen Elizabeth and Prince Philip's courtship in the 1940s and '50s, will focus on royal family drama from the 1990s and early 2000s. That would put West's role squarely in the years when Charles was famously rumored to have had several, well, marital affairs.
Elizabeth Debicki has signed on to play Princess Diana in these seasons. The role of a younger Charles has previously been played by Josh O'Connor. In The Crown's upcoming fourth season (premiering November 15), Princess Diana, played by Emma Corrin, will make her introduction as the story line enters the 1980s.
And with that affairs are once again looking bright for Dominic West.