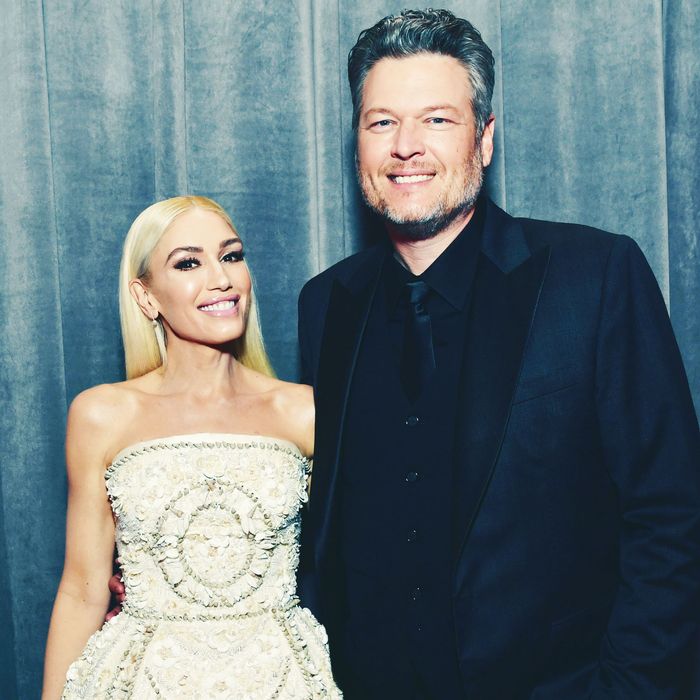 Gwen Stefani.
Photo: Emma McIntyre/Getty Images for The Recording Academy
Don't speak! We have some exciting news. Former No Doubt singer Gwen Stefani and what's-his-name – you know who I'm talking about, that guy from The Voice – are officially engaged.
Stefani and the guy, Blake Shelton, posted matching pictures on Instagram Tuesday of them kissing while Stefani shows off her ring. A source told People that the two were engaged recently in Oklahoma.
"Hey @gwenstefani thanks for saving my 2020… And the rest of my life… I love you. I heard a YES!" Shelton captioned the picture, while Stefani went with a simple: "yes please!"
The couple started dating back in 2015, when they met as coaches on the set of the reality singing competition The Voice. At the time, they were both recently divorced — Stefani from Bush singer Gavin Rossdale, and Shelton from country singer Miranda Lambert. Shelton later told People that their shared experience of heartbreak helped bring them together.
"When you're where she and I were, and you just feel so betrayed and on bottom, this bond that we formed when we found out what each other were going through, it's still there," he said.
Still, the couple's engagement may come as a surprise to some who … thought they were already married. Earlier this month, Stefani told Extra: "Do you know how many people say my 'husband' about him?" adding, "People got used to it or something like that. But it's pretty cute."
(Anecdotally, my own father, who has never once in my entire life known a celebrity's name, responded when I told him on the phone that I was writing a post about Gwen Stefani's engagement: "How is that possible? She's already married to Blake Shelton." When I tell you my jaw dropped … How did this mistruth seep out into the mainstream? How is it that you think you know someone and suddenly they reveal that, against all odds, they know who Blake Shelton is? These are the mysteries of life, I suppose.)
In any case, congratulations to the happy couple on their real-life engagement, and congratulations to Gwen Stefani for being able to boast forevermore that her husband was People's Sexiest Man Alive 2017.