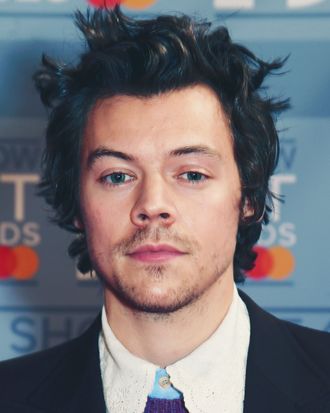 Photo: David M. Benett/Getty Images
Harry Styles's hair, previously long, lucious, and grabbale, has been cut. The singer and actor, 26, has worn it in the bountiful cherubim style for several years now, at one point sporting facial hair to match. But early this week, it was revealed that Styles has sheared off the sides and some of the top in a look that resembles the chop he wore while starring as a soldier in Dunkirk, the Christopher Nolan war movie. The news came courtesy of recent fan photos of him, which surfaced over the weekend:
It's a sad day for lovers of Styles's long tresses, last seen being tousled by beautiful women in the polyamourous orgy that was the music video for "Watermelon Sugar." The cause of death (of his hair) has been identified as his next big movie role: He is preparing to star in the Olivia Wilde–directed psychological thriller Don't Worry, Darling, alongside Florence Pugh and Chris Pine, which is the only reasonable explanation for a haircut this drastic. In fact, it could be for the best, given he was recently spotted sporting a slut bang while filming a music video.
He is survived by other bastions of cherubim hair: Justin Bieber, Troy Sivan, and most of BTS.