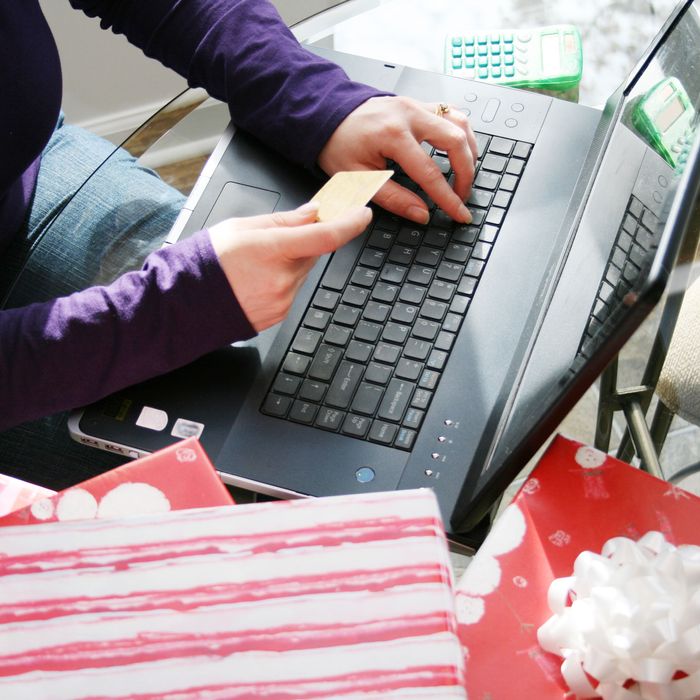 Photo: killerb10/Getty Images
Merry Christmas! That's what online retailers want you to be thinking, approximately … now. It may not even be Halloween yet, but — thanks to the pandemic — the holiday shopping season is going to look very different this year. With no more Black Friday crowds and fewer in-person shopping opportunities, consumers are not only going to be incentivized to shop more online, but also to shop earlier — like right now, in October (as opposed to November, when "Cyber Week" deals typically kick off).
Rob Garf, vice-president of industry strategy and insights at Salesforce, cites two contributing factors to the season's shift in schedule. The first is Amazon Prime Day, a.k.a. today, October 13. Typically, the shopping event takes place in July. "Now that it's happening in October, Prime Day will create this halo effect, where other brands will take advantage of the buzz and the demand created by this manufactured holiday," Garf explained. Amazon's influence is real. Last year, non-Amazon brands saw a 37 percent year-over-year increase during the week of Prime Day alone, according to Salesforce.
In addition to Amazon making Prime Day earlier, there's also a general concern about people not getting what they want, either on time or at all. (It's like the Great Toilet Paper Shortage of 2020 all over again.) Picture a typical consumer, now petrified of an empty shelf, who's worried that the candle they want to buy their mom, whom they maybe haven't seen in nine months, is going to sell out. They'll most likely be shopping earlier and doing it online. Salesforce predicts a 34 percent year-over-year growth in U.S. digital commerce this holiday season (up from 12 percent in 2019). And with more people shopping online, more items are going to be shipped in the mail, which means there's going to be a strain on shipping carriers — and more delays. Potentially 700 million packages are at risk of not making it to doorsteps on time this holiday season, according to Salesforce.
To avoid this crunch (and to avoid having to charge more for shipping due to surcharges), retailers are trying to incentivize customers to shop early — Best Buy, Macy's, and Target have all announced that they will start their Black Friday deals in October as well — and utilize shipping alternatives like curbside and in-store pickup. According to Salesforce, major retailers are also partnering with companies like Uber, Lyft, DoorDash, and Roadie to get packages customers on time.
This push to buy and ship in October, especially when millions of Americans are mailing in their votes, has already been met some blowback online. Some see it as yet another reason to boycott Amazon Prime Day. But in terms of a shift in holiday shopping — earlier, online, picking-up, etc. — Garf predicts a lasting effect. "These new shopping behaviors by consumers aren't like a rubber band; they don't just snap back," he said. "This creates a whole baseline in the way people shop."
Happy holidays!